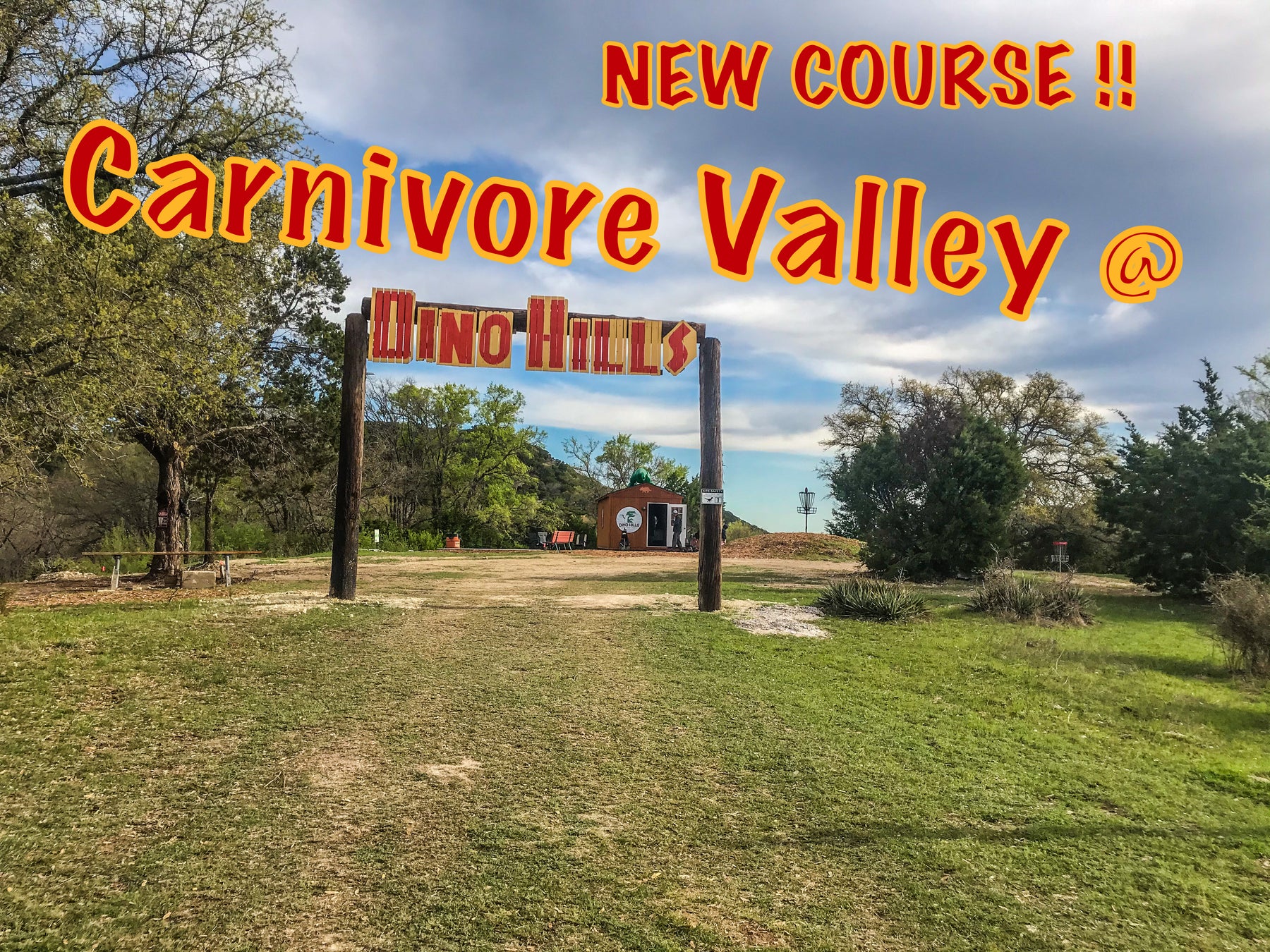 Trip Report: Dino Hills Disc Farm in Glen Rose, TX by Josh Davis
When: Opening Weekend, March 26-28, 2021
Location: Dino Hills Disc Farm in Glen Rose, TX
Conditions: Wind 10-20mph        Temps: Lows in the 50s Highs in the 70s
Duration: 2 days, 1 night
Difficulty: Hiking: 3/10, Disc Golf: 5/10
Kid Friendly: Absolutely, this is a great adventure for the whole family.   
Pet Friendly: I'm not sure, I did not think to ask, there are free-range cattle on the property so I would definitely check before bringing your doggo all the way down there.
Useful links:
 https://www.facebook.com/dinohillsdiscgolffarm/
https://www.instagram.com/dinohills_discgolffarm/?hl=en
Partial Youtube walkthrough w/o commentary
https://www.youtube.com/watch?v=pIzx5opjW4A
Partial Youtube walkthrough w/ commentary
https://www.youtube.com/watch?v=XY7Xv8KeyEc
The Full Report: After what seemed like all of 2020, filled with anticipation for this new course, I took the weekend to scout out what has become my favorite course in the area, Carnivore Valley @ Dino Hills Disc Gold Farm.
Currently there are two courses on the property South West of Glen Rose. Surrounded by cedar covered ridges and rolling hills there is an 18-hole putt-putt course and a 7000ft course named, Carnivore Valley.
                Before I get to the main course and property, I MUST dive into the putt-putt. It is $5 to play or it is included in the $12 fee to play the main course. Many people avoided it seemingly assuming that it would be a waste of their time and they could not have been more wrong. The micro course is all short, but technical Par 2 holes. Most are well within reach as they tempt you to throw it in for a hole in one. A lot of these holes are also guarded by either tight greens, creative use of old rusty farm equipment, or are hidden inside an old hillside tornado shelter/ prohibition era hiding spot. With just a could discs and a buddy or two, the competition is on! It also serves as the perfect warm up for your arm as well as your legs after your 1+ Hour drive from DFW to this scenic course.
                Now for the main course, it is going to test your game in multiple ways. Carnivore Valley has long holes (multiple over 600ft), short holes (multiple under 300ft), open holes, wooded holes, uphill shots, downhill shots, it even has 3 water holes. A huge plus as we head into the warmer months in North Texas, a large majority of the concrete tee pads are under decent shade trees which I really appreciated, there are also nice and sturdy benches at most of these tee pads as well.
                As for obstacles on the course, there is a lot of "natural OB" because it is such a new course, the rough is thick, since not very many folks have found themselves bush-whacking for their lost discs. There are some bushes and plenty of trees surrounding most fairways that are almost like Velcro, reading to suck your disc in and limit your distance potential. In addition to the water holes there is a dry creek bed that weaves its way through multiple greens, risking unbalanced footing for the crucial birdie putts you will hope to find. If that wasn't enough, there is a herd of docile seeming cattle that roam Carnivore Valley.
But wait, there is more, they allow camping! There is a nice decent sized pasture set aside for camping with two communal fire pits in the center. Only $5 and it served as a nice base camp during our play the next day.  Although we slept in and a few early risers beat us to the first tee, we were able to get a jump start on most of the crowds.
Their hours are 8:00am -8:00pm Thursday -Sunday.
We will certainly be back at Dino Hills Disc Farm soon, their first PDGA Sanctioned Tournament is on April 11th.  And sometime, hopefully soon, they will be adding another 18-hole course on the farm. I am unsure of the name, but it will be a championship style laying that dwarfs the current 7000ft course.
See you out there!
Josh Davis