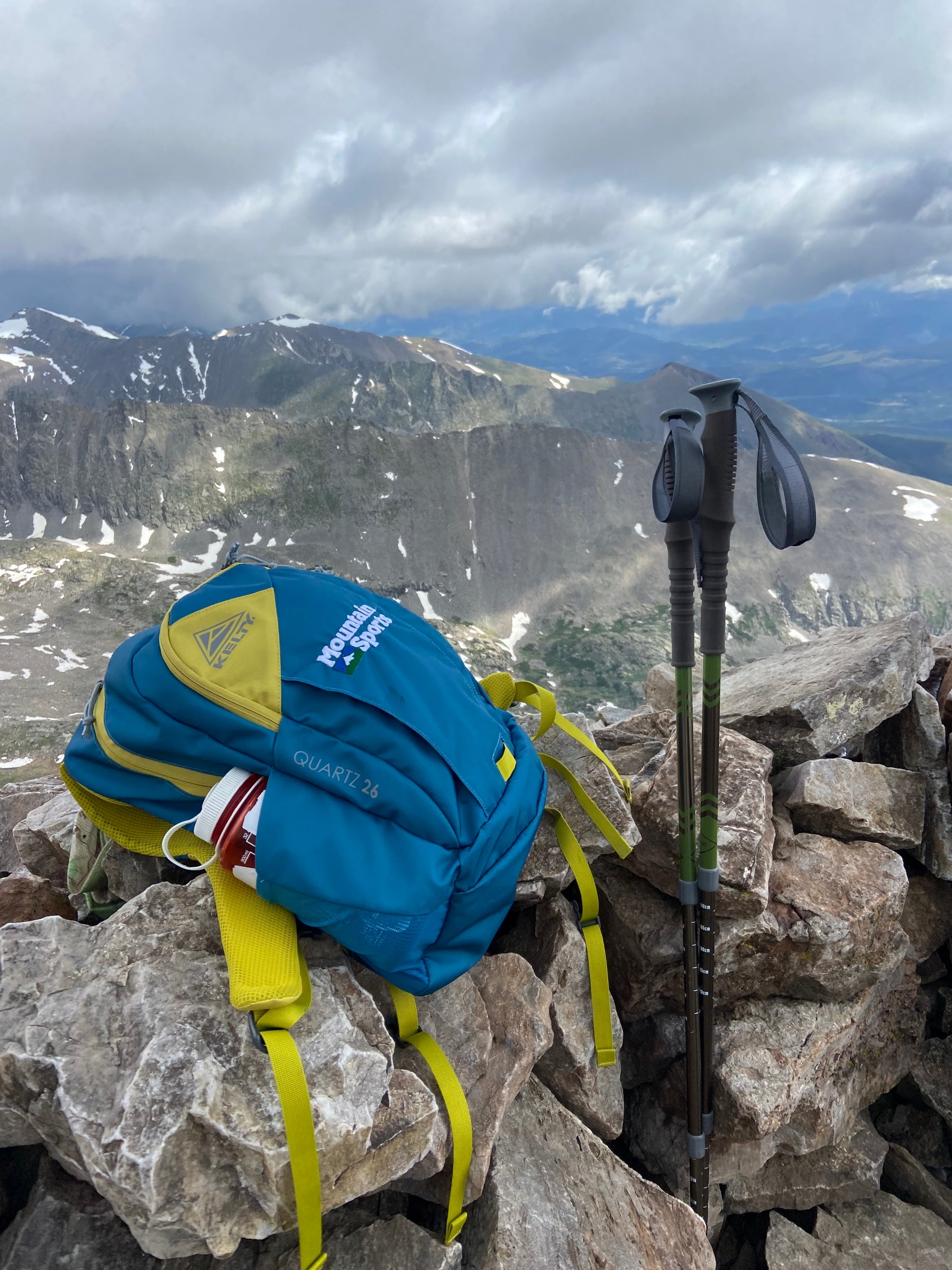 Trip Report: Hiking Quandary Peak by Emory Dyck
When: June 25th 2021
Location: Quandary Peak, Breckenridge Colorado
Conditions: low 50's in the morning, 30's on the Peak, and 80's at the base in the afternoon. Beautiful Sunny day, low winds, except for the summit.
Duration: 5 Hours
Difficulty: Hard!!
Kid Friendly: Yes, only if experienced and used to altitude. I saw very few kids make it to the top, but plenty on the lower stretches of the hike. 
Pet Friendly: Yes (please do not bring dogs who are not used to altitude or have heart conditions)
Useful links: http://www.rockymountainhikingtrails.com/quandary-peak.htm
The Full Report: 
My family visits Breckenridge every year in the summer. It is full of breathtaking views, hiking trails, white water rafting, mountain biking, serene road biking paths, and tons more. Every year we return, I get a little bit more acclimated to the altitude, making it easier to do all of the outdoor activities that I love. This year I decided it was time to conquer a 14er! This is no small task, and I do not recommend attempting one of these summits with little to no experience. Do not try to complete a 14er if you are not used to altitude, as it can cause altitude sickness, leading to life threatening symptoms if pushed too far. 
Quandary Peak stands at 14,265 ft tall, giving you a 360 view of the Rockies when you reach its summit. The trail we chose is only 7 miles in total, 3.5 up, 3.5 down with an elevation gain of 3,800 ft, offering a steep grade for most of the trail. We started our trek at 6:45 am, giving us enough time to be finished before the afternoon rain started. Starting a 14er early is crucial because there is usually an afternoon storm in the mountains, and being in a storm at 14,000 ft can make for a very windy and icy summit. The trail is heavily trafficked, making it difficult to park if you don't get there early, but the encouragement from those around you makes it a great experience. I enjoyed having people who were coming down tell me I was "almost there" and "doing great", and it felt awesome to do the same for others on my descent. 
The trail started off steep with no rest, my lungs and legs started to feel the burn immediately. After my body started to wake up, I started getting into a slow but steady rhythm. Stopping to take a breath would deteriorate any momentum I gained, making it hard to start again. The quiet morning amplified the sound of the wind rustling through the trees, sounding like an ocean wave crashing on a beach, or someone taking a deep breath, acting as a reminder to keep taking mine. Listening to my breathing, taking one step at a time, I made my way to the peak in a semi-meditative state. There is a half mile ridge that offers a break for your legs, giving you a moment to breathe before the last half mile that is a steep rock scramble. Once you get past the tree line (which is most of the hike) the cold seeps into your body every time you pause, and the only way to keep warm is to keep going. So I kept going, and pushed as hard as my body could in the last half mile, pushing me to the summit. The physical strain was only half the battle. It required mental strength to stay calm and focused to get myself to the top. There was some snow at the top, but it was easier to hike on than the rocks as long as you dug your boots in while you hiked. The way down was easier, but still a physical challenge. The rocks were easy to slip on, and the strain on my knees to keep from falling or going too fast was intense. Hiking poles help a lot in these situations. 
Summiting Quandary was extremely rewarding (I beat my brother and boyfriend to the top, making it extra rewarding). The views and the excitement of everyone at the top was well worth it. I was incredibly proud of myself for reaching the peak, it made me feel like I could conquer anything. It was one of the hardest things I've ever done, but it makes me want to do it again. I wonder which one I will summit next time! 
Recommended Gear and prep (summer conditions only):
Hiking in Colorado in the summer requires lots of layers. The weather changes throughout the day and throughout your elevation gain. For a hike like this I recommend the following:
To wear:
Leggings or Hiking pants

A close fitting fleece over your shirt for warmth

A rain jacket with vent options that can pack down for when not in use 

A warm hat or an ear warmer headband. It can be freezing temperatures at the top, and keeping your head warm is important. 

Really good hiking socks, I suggest SmartWool or Darn Toughs. 

Hiking boots. I do NOT recommend doing anything above tree line in running shoes or hiking sandals. There are many jagged rocks small and large. They can slip and move under your feet, making it easy to roll an ankle, so I suggest hiking boots instead of low shoes. 

Sunscreen! Though you may be bundled up, put it on exposed skin, as you will be closer to the sun and will probably get burnt if you don't. 
To bring:
CamelBak. I bring mine on every hike. I love the convenience of not having to carry a water bottle, and my 1.5 liter bladder is always enough. My CamelBak has enough room to carry small items such as my phone, wallet, sunscreen and rain jacket when not in use, making it lightweight and easy to carry. 

Daypack. Having a comfortable day pack for a hike like this is super helpful. We had a couple within our group of 6, and they held any jackets that were not in use, gloves, extra socks, blister strips, extra water, and even a small lunch to enjoy after the summit. 

Small First Aid Kit

Oxygen. Having a canister of oxygen can really help if anyone is starting to get altitude sickness, or just needs a deep breath. The air is very thin above the treeline. 

HIKING POLES. I cannot stress enough how much they help. I used to never hike with any, but I do not think I could've done this hike without them. They save so much energy on your legs, giving your arms some of the work to do. 
Additionally: Be respectful to those on the trail, 14ers are heavily trafficked, so it is common courtesy to let faster hikers pass, and move over for those descending. Everyone is going through a collective experience when you are out there, so it is fun to help each other out with words of encouragement. Remember to Leave no Trace! Pick up any trash you might have, and don't go off the trail, as there are habitats that will be disturbed. Lastly, have fun. If you plan on taking on a 14er, do your research, plan accordingly and don't give up!