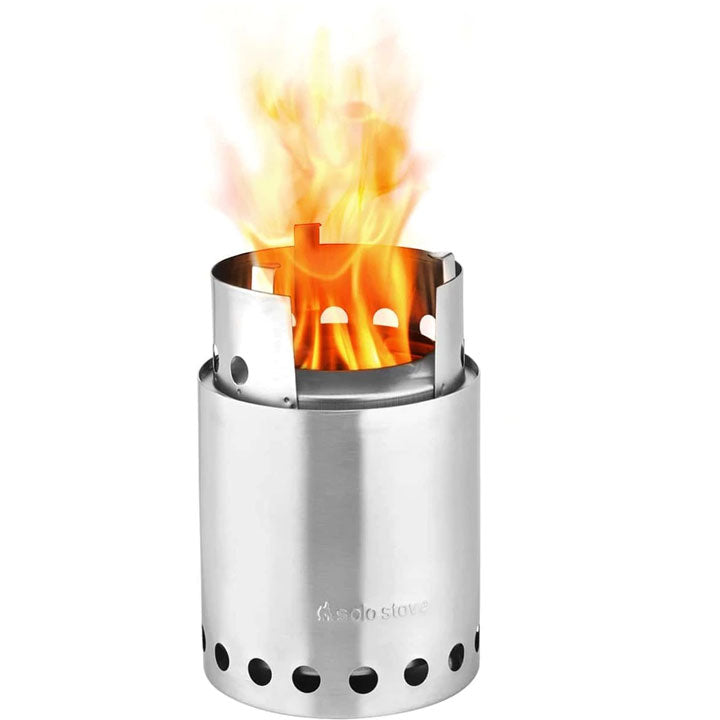 Designed with a double wall, the Solo Stove Titan is a natural convection inverted downgas gasifer stove.
The air intake holes on the bottom of the stove channels air to the bottom of the fire while at the same time, channels warm air up between the walls of the stove. This burst of preheated oxygen feeding back into the firebox through the smaller holes at the top of the stove causes a secondary combustion. This allows the fire to burn more complete which is why there is very little smoke during full burn. A more efficient burn also means you'll use much less wood compared to an open camp fire. The Solo Stove Titan doesn't just burn wood. It actually cooks the smoke out of the wood and then burns the smoke not once, but twice!
The Solo Stove Titan also features a heat shield between the ash pan and the bottom of the stove. This heat shield protects the ground under the stove from scorching.The cooking ring's angled lip also increases efficiency by directing heat towards your pot minimizing heat loss. It also acts as a windshield while still allowing oxygen to flow inward. The Solo Stove Titan is indeed one of the most efficient wood burning stoves you'll ever own.
Airflow: Rising hot air, and the absence of oxygen created by the combustion process, pulls air through the bottom vent holes. This air movement fuels the fire at its base while also providing a boost of preheated air through the vent holes at the top of the burn chamber.
Ash Pan: Catches loose ash and prevents it from clogging vital airflow. The ash pan also acts as a heat shield and prevents your stove from scorching the ground beneath it.
Nichrome Wire Grate: Allows oxygen to be fed directly to embers from below. This helps to burn biofuel faster and hotter while allowing spent ash to fall out of the process.
Secondary Burn: Vent holes near the top of the burn chamber allow preheated oxygen to fuel the flame resulting in a more complete combustion and a hotter fire with less smoke.
Cooking Ring: Directs heat up and towards the center of your pot for maximized efficiency. The cooking ring also acts as a windscreen while still allowing oxygen to fuel the flame. The entire cooking ring can be packed into the stove body for compact storage.
Product Specifications:
Materials: 304 Stainless Steel

Fuel: Sticks, Twigs, Pine Cones and Other Biomass

Weight: 16.5 oz