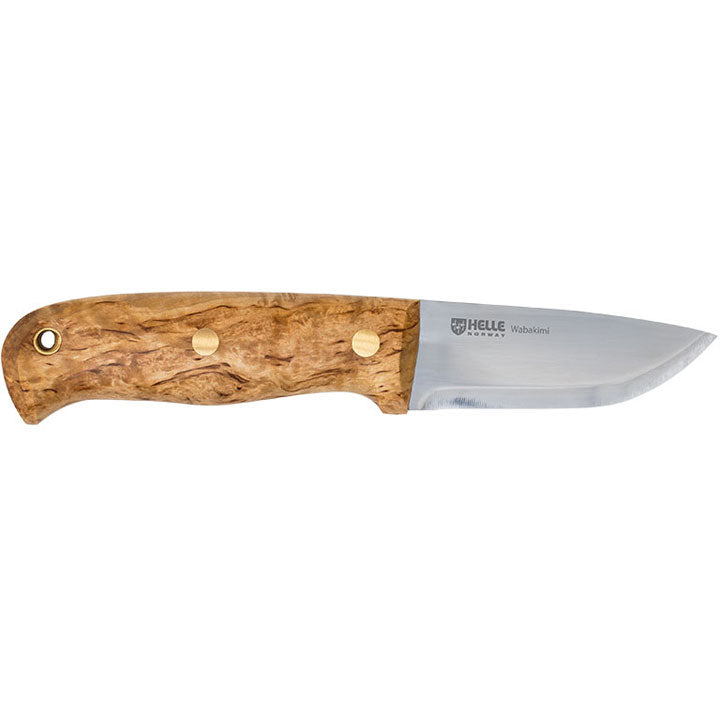 The third in a series of Helle knives designed with Les Stroud, the Wabakimi combines Helle's 85 years crafting traditional Scandinavian knives with Stroud's mastery of primitive skills. The latest addition is a medium sized, well-balanced knife small enough for hip carry, yet amply sized to make precise cutting and long carving sessions comfortable and efficient.
The new knife fits between the larger, best selling Temagami (2010), a practical wilderness knife, and the light and compact Mândra (2017) neck knife. The Wabakimi combines the advantages of the Temagami's ergonomic handle and long, pointed blade with the Mândra's rounded shape. Featuring a three-quarter, partial tang reinforced with two robust pins, the handle is made from curly birch wood with a lanyard hole and a 3.3-inch drop point blade using Helle's renowned triple laminated steel.
Maintenance: Helle knives are designed to retain their sharpness as a lifelong outdoors companion. But it is still important to take care of your knife. The Handle: Dry the handle with a soft cloth if wet and wax occasionally. The Blade: Wipe the blade with a soft cloth if wet and treat with grease occasionally.
Sharpening: Use a diamond tool or a wet stone for sharpening. Place the knife bevel flat to the sharpening tool and work the entire blade. Work one side until you can feel a slight burr on the opposite side. Switch side and repeat the procedure until you feel the burr on the first side. You have now established an edge. Remove the burr by stroking the blade gently over the sharpening surface on both sides, as if cutting very thin slices. Keep the bevel flat towards the sharpener and move from side to side until the burr is gone. If the blade is very dull or damaged, use a fine-grained grindstone and plenty of water and sharpen until you have a raw edge. Use much cooling liquid and never sharpen on a dry stone. A hot-ground edge looses its heat treatment and ruins the blade.
Specifications:
Weight: 135 g
Blade material: Triple laminated stainless steel
Blade thickness: 3 mm
Blade length: 84 mm
Handle material: Curly birch
Handle length: 117 mm
Sheath material: Genuine leather
Design: Les Stroud
Year: 2018