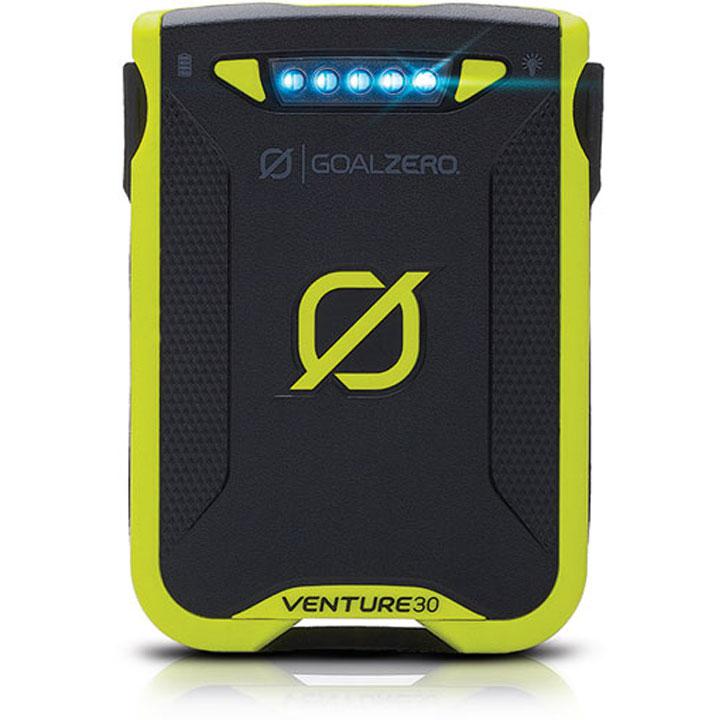 Goal Zero Venture 30 Recharger
The Venture 30 packs the power you need to keep those small devices, cameras and tablets charged no matter the elements you may be out battling. With an IPX6 weatherproof rating and 7800mAh the Venture will keep everything running smoothly
Recharge by: USB & Solar
Power Output: USB
Ideal for: Phones, Cameras, Tablets & more
Capacity: 30Wh, 7800mAh
Weight: 8.8 oz (250 g)
Weather Rating: IPX6
Built-In Micro USB Tip - Tangle-free charging for phones and tablets. Certified cables for efficient charging.
Solar Ready™ - Built-in Charging Tip. No extra cables to lose. Charge up in 4 hours from USB - in 9 hours of full sun from the Nomad 7.
Waterproof in Use - Dunk it, spray it, use it in the rain. Power that handles whatever Mother Nature can throw at you. No rubber plugs needed.
30 Wh, 7,800mAh Power Pack - Power phones (2-3x), tablets (1x) and more. Lightweight and packable from the airport to the trail.
High-speed USB 4.8A across dual ports - Two high-speed ports capable of dishing out the fastest charge possible, at the same time. Power two devices at once or share with a buddy. Integrated Flood Charge optimizes your charging time.
Charge Times

Nomad 7 Solar Panel: 8-16 hours
Nomad 13 Solar Panel: 6-12 hours
Nomad 20 Solar Panel: 5-6 Hours
2A USB Source: 5 Hours

Battery Details

Cell Chemistry: Li-ion NMC
Cell Type: 18650 by LG chem/Samsung
Cell Capacity: 29Wh (3.7V, 7800mAh)
Lifecycles: hundreds of cycles
Shelf-life: Keep plugged in, or charge every 3-6 months
Fuses: none
Management system: Charging and low-battery protection built-in

Ports

USB port (output): 5V, up to 2.4A (12W max), regulated
USB-micro port (input): 5V, up to 2.1A (10.5W max)

General

Product SKU: 22008
IP Rating: IPX6
Chainable: No
Weight: 8.8 oz (250 g)
Dimensions: 4.5 x 3.25 x 1 in (11.4 x 8.25 x 2.5 cm)
Operating usage temp.: 32-113F (0-45C)
Certs: CE, FCC, ROHS
Warranty 12 months
Prop 65 A (General): This product contains chemicals known to the State of California to cause cancer, and birth defects or other reproductive harm.
https://mtn-sports.myshopify.com/pages/prop-65-frequently-asked-questions