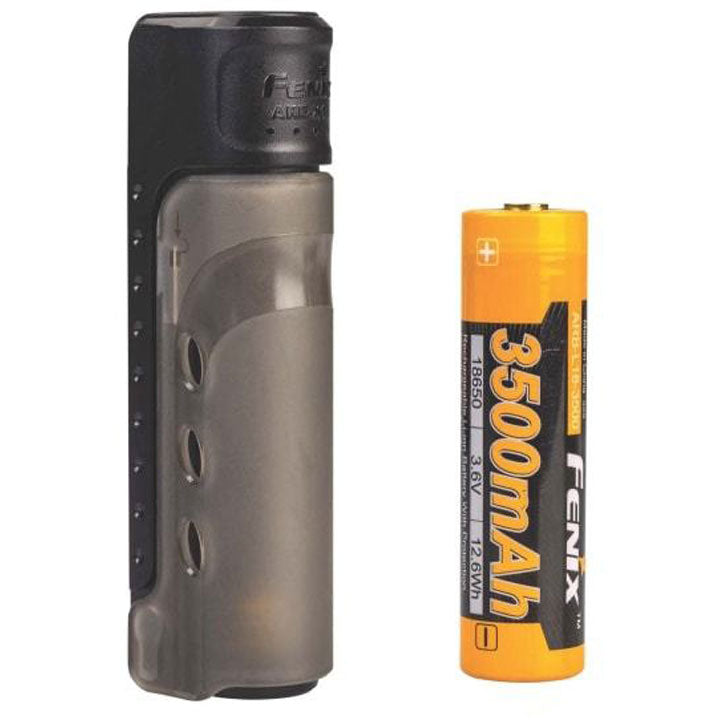 Fenix ARE-X11 18650 Battery Charging Kit
Save

Liquid error (snippets/product-badge line 32): Computation results in '-Infinity'

%
The ultimate battery and charger bundle is here. The brand new Fenix charger - ARE-X11 is combined with Fenix's best battery, the ARB-L18-3500mAh 18650 rechargeable battery. This Fenix ARE-X11 has the ability to charge and discharge an 18650 rechargeable battery making it a perfect accessory for your camping trip, hiking trip, or everyday power source.
Specifications:
Mini USB cable included
4 LED battery status indicators: Each one stands for roughly 25% power
Micro-computer chip controlled
Digitally regulated charging to extend battery life
Short-circuit protection
Over-current protection
Over-voltage protection
Reverse-polarity protection
Includes battery protection cover
Size of Your Charger:
Length: 4.1 in./104mm
Width: 0.98 in./25mm
Height: 1.2 in./30mm
Weight: 1.06 oz/30grams (excluding cover and cable)
Weight: 1.45 oz//41 grams (including cover and cable)
What Comes With This Fenix Bundle:
1 - Fenix ARE-X11 Charger
1 - Fenix ARB-L18-3500mAh 18650 Li-ion rechargeable battery
1 - Mini USB charging cable
1 - User Manual
Rechargeable ARB-L18-3500 Li-ion battery
Main Features:
Short-circuit protection
Multiple protection
500 charge cycles
Specification Parameters:
Model: ARB-L18-3500
Voltage and capactiy: 3.6V/3500mAh
Charging current: Recommend 1A; Maximum 2A
Weight: 50g
Size: Diameter: 18.6mm/0.7in; Height: 69mm/2.7in.
Warranty Period:
12 months free warranty from date of purchase
Fenix ARE-X11 18650 Single Channel Smart Charger
Main Features
Compatible with 18650 rechargeable Li-ion battery
Micro USB charging, USB discharging
Protection cover against battery dropping out
Short circuit protection, over-current protection, over-voltage protection and reverse-polarity protection
Micro-computer chip controlled digitally regulated charging to extend battery lifetime
Specifications Parameters
104mm Length *25mm Width *30mm Height
Weight 30/41g (excluding protective cover, mini USB cable)
Made of high quality PC material and engineering plastics
Charging: Micro USB charging port, DC5V/1A, maximum: 2A
Operating temperature: -20ºC to 50ºC
Operating humidity: 5% (0ºC) to 90% (40ºC)
Operating Instructions
Battery insertion: Keep the battery polarity markings in conformity with the charger markings. The charger features reverse polarity protection, which protects from improper battery insertion, remove and re-insert if the battery is inserted incorrectly
LED lights: There are 4 LED lights to display the battery charging and discharging status and the first time the battery inserted, each representing about 25% of the electricity. Because the power indicator function is based on data measured in a lab with 18650 rechargeable Li-ion batteries of 3500mAh capacity, differences may occur due to changes in the batteries and usage conditions
Charging: Insert the battery, then connect the Micro USB terminal of the charging cable. The indicator lights will turn on. It takes about 3 hours to charge a 18650 battery with a capacity of 2600mAh, 4 hours to charge a 18650 with a capacity of 3500mAh. All indicators will be lit when fully charged.
Discharging: Insert the battery and connect the USB terminal of the charging cable to the charger. Supply of power starts automatically. If the startup failed, you can take the battery out and wait a few seconds to reinsert it. The product has over-discharge protection - when the voltage level of the battery drops below the preset level, it will automatically stop the discharge to protect the battery
If the discharge function is used while mobile, it is recommended that the protective cover is closed and locked, as shown in the pictures at the top
Warranty Period:
12 months free warranty from date of purchase