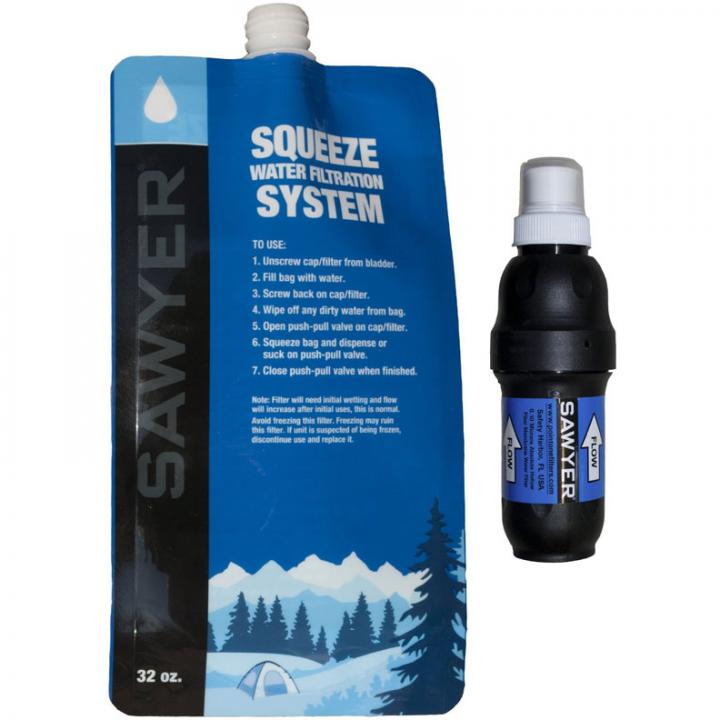 Sawyer SP129 Squeeze Filter with Pouch
Save

Liquid error (snippets/product-badge line 32): Computation results in '-Infinity'

%
The Sawyer Squeeze Filter is the lightest and most versatile filtration system on the market. With a total field weight of 85 grams, it is extremely lightweight and packable. This product includes a 1 liter pouche that can be reused hundreds of times. Fill up the pouch at a lake, stream or river, screw the filter directly onto the pouch and: 1) Squeeze the bag and filter water into your water bottle or container of choice. 2) Drink directly from the filter which has a built in push pull cap for on/off functions. 3) Attach the filter onto most threaded water bottles including 2 liter bottles. The Squeeze filter is perfect for traveling where tap and bottle water cannot be trusted. Benefits and Advantages
Take our Sawyer SP129 Water Filter System on travelling or backpacking trips eliminates the need to buy bottled water that is expensive and of questionable quality.
To use on travelling or backpacking trips, fill up the 1 liter water pouch at a lake or stream, screw the filter onto the pouch and squeeze the pouch to push water through the filter.
Filter will also fit the threads on most bottles of water that you buy at a grocery store.
Simple to use – no pumping required, just fill with any source water.
Sawyer water bag holds 1liter of water made of non-leachable BPA FREE plastic.
With municipal water the water bag can be reused hundreds of times.
Produces an equivalent of over Rs. 30,000/- worth of bottled water per year.
Can be used in office, gyms, biking, running, camping, golfing, car trips, domestic and international travel.
Eliminates parasites like cryptosporidium and giardia greater than 99.9999%
Removes bacteria like E.coli 99.9999%.
Unlike most pump style filters, this filter does not have an activated carbon core so the beneficial ingredients in an electrolyte replenishment solution will not be filtered out of your bottle.
Laboratory tested to meet or exceed EPA standards.
Tested and proven effective.
Hints
This filter is not intended for use with saltwater or more turbid water or beverages.
Do not allow unit to freeze; freezing may ruin the hollow-fiber membrane.
Do not place in microwave oven.
Do not run hot water more than 60°C through filter.
The design of the filter allows you to back wash it with the enclosed syringe to maintain a high flow rate and reuse it over and over again, thus virtually making this the filter last forever and you will ever need to buy as long as you follow the care and use instructions.
All contaminants reduced by this water filter may not necessarily be in the user's water supply.
Technical Specifications
Bag Capacity – 1.0 Ltr
Filter Life – Over 3 Million Liters Guaranteed
Removal Rate – 0.1 Micron Absolute
Flow Rate – 1.7 liters per minute
Field weight: 85 grams
Biological Filtration Removes – 7 log (99.99999%) of all bacteria such as Cholera, Botulism (Clostridium Botulinum), Typhoid (Salmonellla Typhi), Amoebic Dysentery, E. coli, Coliform Bacteria, Streptococcus, Salmonella
Removes – 6 log (99.9999%) of all Protozoa such as Giardia, Cryptosporidium, Cyclospora
You will find these removal rates to equal or exceed competitive options. EPA guidelines allow ten times more Protozoa left in the water than we allow.
Dimensions – (Filter) 2 x 5 inches / (squeeze bag) 1 liter : 11 x 6 inches
Life Expectancy: More than 3 Million Liters.
Warranty: 1 Year limited warranty only on the filter cartridge, no other parts.
Made in USA.
NOTE – The Sawyer Point One Filter does not remove dissolved solids, including chemicals and heavy metals.
Kit Includes
1 – 1 Liter Lightweight Durable Collapsible Pouch
1 – Sawyer 0.1 Absolute Micron Hollow Fiber Membrane Screw On/Off Water Filter
1 – Replaceable Pop Up Drinking Spout
1 – Cleaning Syringe cleaning and Maintenance Instructions.