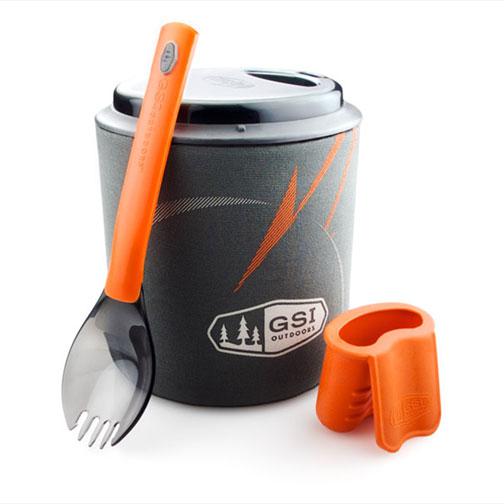 Halulite says goodbye to scratches, burn circles and ounces. As light as Titanium, Halulite is a proprietary alloy that also conducts heat better and more evenly—so you can leave the extra fuel at home. Plus, every piece is Hard Anodized to create a surface that withstands scratches and abrasions like nothing else. It's ultra light without the sacrifices. Now that's smart.
Ultimate ultralight design integrates everything you need for hot meals and warm drinks in an impossibly small footprint.
Convenient silicone pot gripper attaches magnetically to fuel canister while cooking so it's always at hand.
Unique 0.6 L pot and lid boil water for pouch meals before transforming into an insulated mug by simply inverting the lid and slipping the pot into its included sleeve.
Insulating sleeve keeps drinks warm and helps to reduce soot and char on your clothes.
Major Dimension:1 Person
Weight:5.0 oz.
Dimensions:4.2" x 4.2" x 4.6"
Material:Proprietary, Hard Anodized Alloy
Product Use:Ultralight Backpacking
Includes:.6 L Pot/Mug, Sip-It Lid, Insulated Sleeve, Silicone Gripper, Telescoping Foon