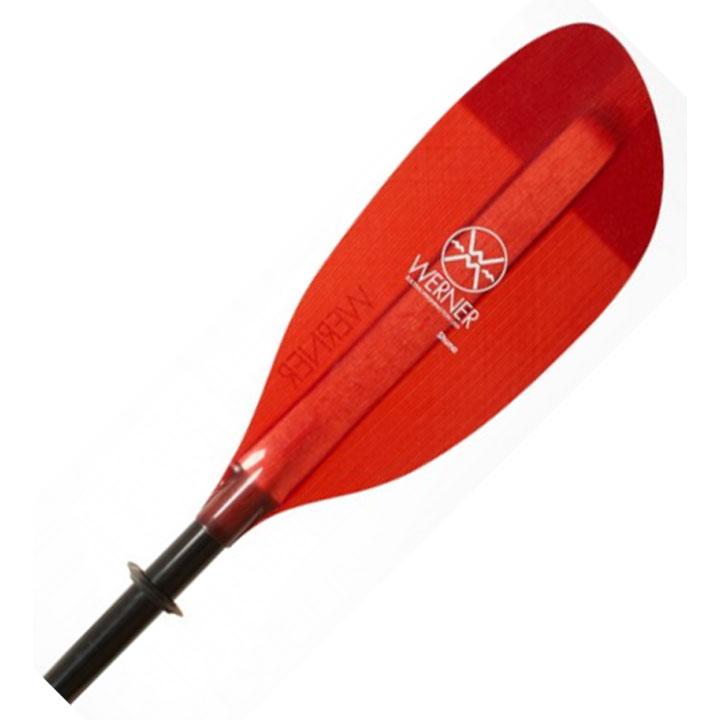 Werner Shuna 2 Piece Kayak Paddle
The Shuna is Werner's most popular high angle touring paddle. It's powerful yet light weight and durable and great for active or relaxed paddling. The mid-sized blades fit a wide range of kayakers and are versatile and easy to use during advanced maneuvers or all around touring.
Premium Performance gives you the right combination of light weight, stiffness and durability.
Mid-sized high angle blades fit the widest range of paddlers.
Optimized flex and strength. Choose our carbon blend Straight or carbon weave Neutral Bent shaft in Standard Diameter or Small Diameter.
Brightly colored translucent fiberglass laminate blades in solids or patterns.
Dihedral allows for smooth forward and directional paddling.
Custom shaped, low profile, reinforcement spine allows for enhanced blade maneuverability when linking several strokes and provides blade stiffness and overall strength.
The hooked series is featured in grey scales.
Shuna Specifications
Surface Area: 615 sq cm
Blade Length x Width: 43 x 18.25cm
Weight for 210cm: - Straight Shaft Weight:787g/27.75oz - Neutral Bent Shaft: 851g/30.00oz
Hooked Series Specifications
Surface Area: 610 sq cm
Blade Length x Width: 46 x 16cm
Straight Shaft Weight: 787g/27.75oz
High Angle
A more powerful catch and stroke for increased forward efficiency
The paddle is kept at a high angle relative to the water and a faster cadence is used
Best for linking a variety of maneuvering stokes
Excellent for bracing and rolling
Mid-size Premium Performance Blades
Mid-sized blades fit the widest range of paddlers.
Perfect combination of light weight, stiffness and durability.
Adjustable Ferrule/Smart-View
Elegant, easy to use design
Low profile button looks and feels like a one piece paddle
Internal gear system for precise fit
Viewing window shows you your offset
Adjusts feather left or right in 15 degree increments
You determine what feather works best for you
Straight Shaft
More traditional feeling and generally less expensive
The lightest weight option available
Continuous length allows for easy hand movement
Neutral Bent Shaft
Neutral bent shafts naturally aligns wrists to reduce fatigue
More hand to shaft contact for increased control
Immediate comfort and reduced strain with lighter grip
Balanced for precise control and comfort
Small & Standard Shaft
Two shaft sizes ensure you get a proper fit
A good fit allows you to use a light grip, reducing fatigue and increasing comfort and performance
Hands larger than 7" fit our Standard Shaft
Hands smaller than 6.5" fit our Small Shaft
Hands between 6.5" and 7" (try both)
Recommended Uses
High Angle paddling is typically a more aggressive style of paddling with a faster cadence and a larger variety of strokes being used on each paddle outing. The high angle designs have short wide blades for a powerful catch and stroke with a slight dihedral for smooth linking strokes.
Lumpy Water paddling is paddling in adverse conditions that include deep water waves, current and wind-blown confused water of all sizes. Exposure to steep, dumping waves against the shoreline is limited and carried out with studied expertise.
Paddlers who are looking to paddle for fitness or race their kayaks are looking for the best energy transfer (stiffness) and lightest swing weight in a paddle.
Prop 65 S (Bisphenol A and Dichloromethane): This product can expose you to Bisphenol A and Dichloromethane, which is known to the State of California to cause cancer, and birth defects or other reproductive harm.
https://mtn-sports.myshopify.com/pages/prop-65-frequently-asked-questions