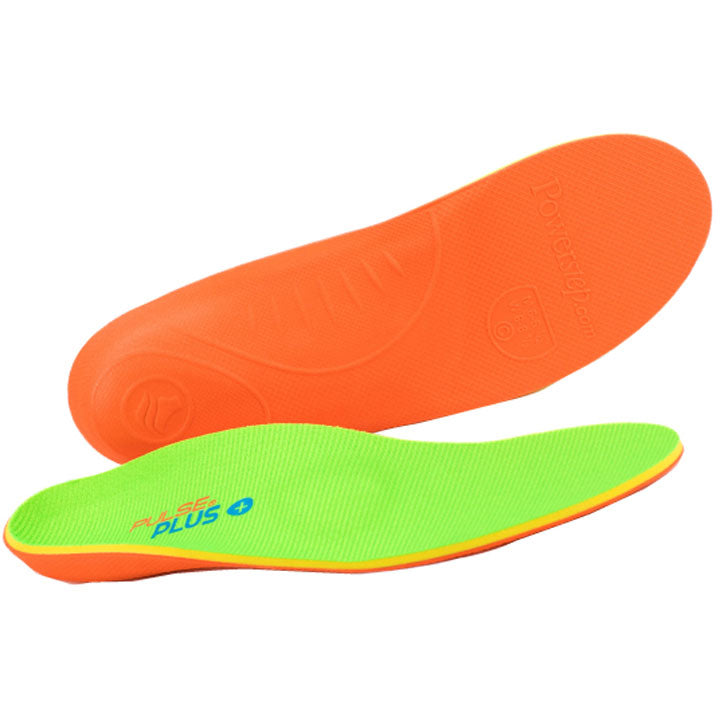 Powerstep Pulse Plus Met Performance Insoles Green
Maximum Cushioning, Full Support. PULSE® Plus Met Insoles were designed specifically for use in advanced athletic shoes during rigorous athletic activity such as running and feature built-in metatarsal support to spread and cushion the metatarsal heads to help alleviate pain. Ideal for Morton's neuroma and metatarsalgia, the Pulse Plus Met provides the perfect blend of foot control, flexibility and cushioning. The encapsulated design with a firm but flexible support shell, built-in arch support and heel cradle offers stability. This motion control, along with targeted dual-layer cushioning, helps absorb shock at impact to reduce stress on the feet, ankles and other joints. The responsive spring-like action of the polypropylene shell provides bounce back with each step.
Ideal as metatarsalgia orthotics, Pulse Plus Met inserts prevent and alleviate pain associated with Plantar Fasciitis, metatarsal pain, heel or arch pain and discomfort, mild to moderate pronation, sore/aching feet and other common foot conditions.
DESCRIPTION:
Maximum Cushioning, Full Support. PULSE® Plus Met Insoles were designed specifically for use in advanced athletic shoes during rigorous athletic activity such as running and feature built-in metatarsal support to spread and cushion the metatarsal heads to help alleviate pain. Ideal for Morton's neuroma and metatarsalgia, the Pulse Plus Met provides the perfect blend of foot control, flexibility and cushioning. The encapsulated design with a firm but flexible support shell, built-in arch support and heel cradle offers stability. This motion control, along with targeted dual-layer cushioning, helps absorb shock at impact to reduce stress on the feet, ankles and other joints. The responsive spring-like action of the polypropylene shell provides bounce back with each step. Ideal as metatarsalgia orthotics, Pulse Plus Met inserts prevent and alleviate pain associated with Plantar Fasciitis, metatarsal pain, heel or arch pain and discomfort, mild to moderate pronation, sore/aching feet and other common foot conditions. Patent Pending
INSOLE TYPE: Maximum Cushioning, Full Support
WEAR / CARE: WEARING/FITTING DIRECTIONS: Remove the shoe's existing insoles if possible and replace with your Powerstep® insoles. Trim edges if needed to fit. If necessary, wear a few hours a day until feet are accustomed to better support, and then wear full time. CARE INSTRUCTIONS: Spot clean with a mild detergent. Do not immerse in water. Air dry only. Replace your Powerstep® insoles as needed depending on wear.
PRODUCT DETAILS: Built-in metatarsal support to relieve metatarsalgia pain. Semi-rigid arch support and heel cradle. Dual layer cushioning with durable EVA foam base. Heat and friction reducing, anti-microbial top fabric. Full length, total contact support. Movable from shoe to shoe with no trimming required