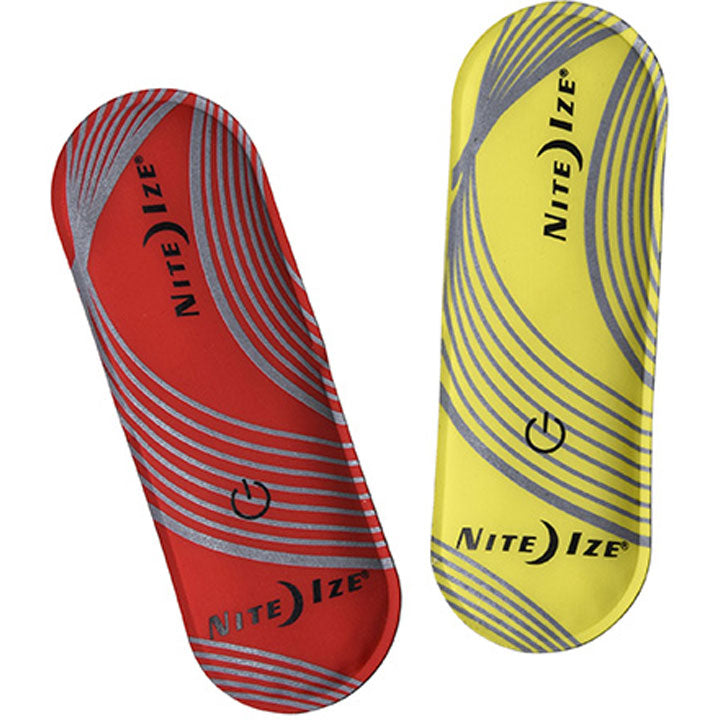 Nite Ize Taglit Magnetic LED Marker
Tag! Your lit. With the TagLit's four bright LEDs you can always be seen in the dark. Perfect for nighttime activities where visibility = safety.
PRODUCT INFORMATION:
When you need a quick solution to make you instantly visible at night, the TagLit LED Marker will quickly become your go-to. This reflective marker with four bright LEDs magnetically clips to clothing, hats, shoes, or bags making the wearer instantly visible for nighttime activities. The powerful neodymium magnets hold it securely in place, and the colorful LEDs can be set to glow or flash. Powered by a replaceable 2032 battery, this weather-resistant marker light will run for 70+ hours, making it a great companion for evening runs, bike rides, and other activities at dusk or dawn.
Features:
Four bright red LEDs (for red and pink) or four bright green LEDs (for yellow)
Glow or flash
Strong neodymium magnets for easy and secure clipping to fabric
Durable nylon seamless design
Passive reflectivity pattern
Weather resistant
Includes 1x replaceable 2032 lithium battery
Battery run time: 70 hours
Dimensions: 4.7" x 1.6" x .3" | 120mm x 40mm x 7mm
Weight: .45oz | 14g