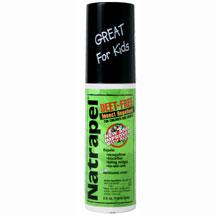 Natrapel 4 oz Pump Spray Insect Repellent
Natrapel® is a unique DEET-Free insect repellent. Natrapel has a refreshing scent and a non-oily citronella formula. For an effective alternative to DEET-based repellents, choose Natrapel.
Natrapel is safe, effective and long-lasting insect protection. It needs only to be applied every 2-3 hours.
By purchasing Natrapel, you'll protect yourself while helping the environment. A portion of Natrapel sales will be donated to Tender's Environment Scholarship Program.
The 4 oz. Natrapel Pump spray bottle dispenses 100% pure Natrapel with every squeeze and provides great control over the amount of the product that is released with each application.
Active Ingredient: Citronella (10%)
Inert Ingredients: Water, Aloe Vera, Vanillin, Lauryl Sulfate, Xanthan Gum (90%)