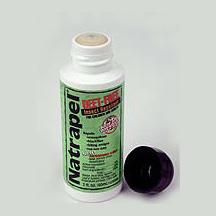 Natrapel 2oz CFA Insect Repellent
Natrapel® is a unique DEET-Free insect repellent. Natrapel has a refreshing scent and a non-oily citronella formula. For an effective alternative to DEET-based repellents, choose Natrapel.
Natrapel is safe, effective and long-lasting insect protection. It needs only to be applied every 2-3 hours.
Natrapel lotion comes in a conveniently sized 2 oz. Control Flow Applicator (CFA). This new package will allow users to apply insect repellent around sensitive areas without the worry of a mess.
The CFA gives the user better control at applying the repellent. When the user presses the applicator sponge against his or her skin, a valve is activated and releases a few drops of repellent which can then be spread to adjacent areas of skin using the applicator top. The CFA allows safe, controlled application around the face and neck and is the solution for keeping the repellent off one's hands.
By purchasing Natrapel, you'll protect yourself while helping the environment. A portion of Natrapel sales will be donated to Tender's Environment Scholarship Program.
Active Ingredient: Citronella (10%)
Inert Ingredients: Water, Aloe Vera, Vanillin, Lauryl Sulfate, Xanthan Gum (90%)