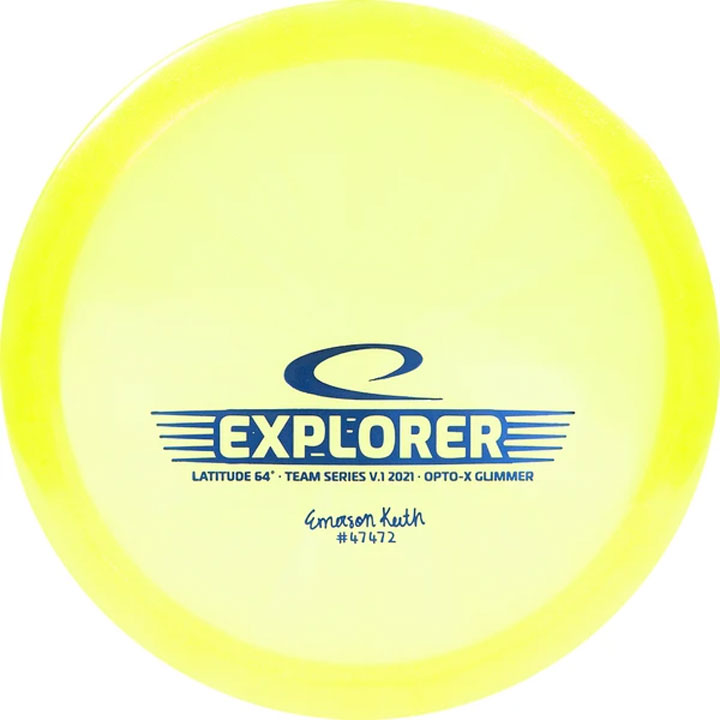 Latitude 64 Explorer Fairway Driver
Stamp color will vary.
The last set of team series discs feature our touring players that have fallen on some undead times. The zombie versions of Eric Oakley, Emerson Keith, Zach Melton, Albert Tamm, Chris Clemons, and Kristin Tattar have crept their way on to their usual discs. Please support them during this difficult, spooky time by picking up one of their V1 discs. A portion of each purchase directly supports each player's touring efforts.
Emerson Keith has been showing up on leaderboards at big events for a while, but he's headed on tour full-time for 2021. Known for his incredible power generated from a small frame, Emerson needs a disc he can throw hard and trust to fly straight. The Explorer is a perfect fit for that shot, as it has the perfect amount of neutral stability with a bit of fade, and the Opto-X plastic promotes a little bit more wind-fighting potential and a flatter top. Players looking for a straighter forehand disc will love the feel of the Opto-X Explorer and will find it to be a workhorse for any fairway distances!
Why was the Explorer voted the 2018 Disc of the Year? Straight flight path and controlled glide, that's what the Explorer brings. Designed to be the workhorse for all kinds of accurate fairway drives. This stable and versatile fairway driver is smooth out of the hand and has a clean stable flight.
Speed: 7 Glide: 5 Turn: 0 Fade: 2
About Opto-X:
Opto is made out of some of the world's most durable plastics. It comes in a variety of beautiful translucent colors. The Opto Line plastic has been developed to withstand severe punishment and extreme conditions better than other plastics. Opto-X is a slightly
stiffer plastic that results in more overstable flights.
Glimmer effect: Color shift combined with a glimmer effect.