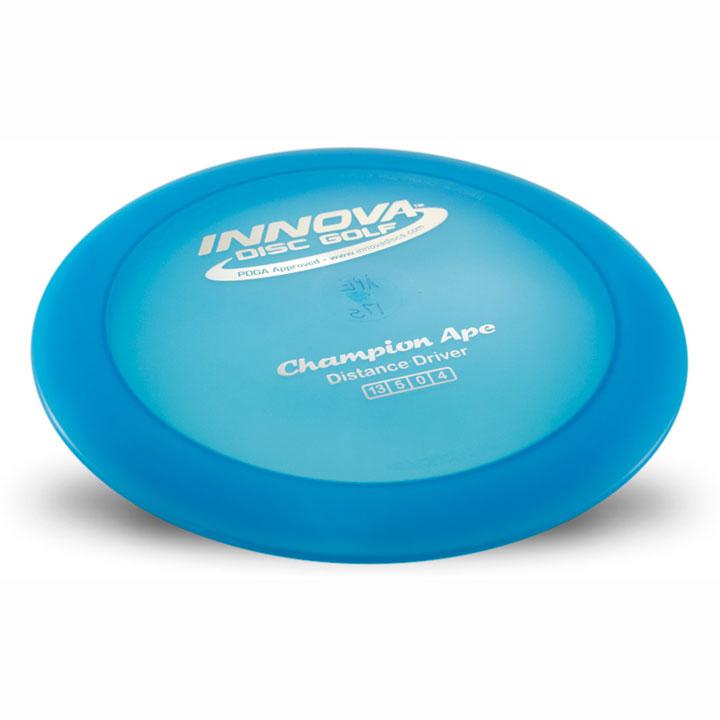 Innova Ape Distance Driver
A fast long-range distance driver with great stability. Expect consistent and accurate flights from this disc. The Ape is great for powerful backhand and sidearm players.
Diameter: 21.2cm
Weight Range:
Champion: 173-175g
Blizzard: 130-159g
Best Choice for:
Headwind Drives
Distance Hyzers
Power Sidearm
Speed:Speed is the ability of the disc to cut through the air. Speed Ratings are listed from 1 to 13. Discs with high numbers are faster.
Glide:Glide describes the discs ability to maintain loft during flight. Discs with more glide are best for new players, and for producing maximum distance. Glide is rated from 1 to 7.
Turn: High Speed Turn is the tendency of a disc to turn over or bank to the right (for RHBH throws) during the initial part of the flight. A disc with a +1 rating is most resistant to turning over, while a -5 rating will turn the most.
Fade: Low Speed Fade is the discs tendency to hook left (for RHBH throws) at the end of the flight. Fade is rated from 0 to 5. A disc rated 0 will finish straightest, while a disc rated 5 will hook hard at the end of the flight.
*Disc's are assorted colors and are not necessarily the color in the photo shown. If you are looking for a certain color put your request in the comments section on your order form and we will try to oblige, however, no guarantees are made.
** Any price changes within a disc are due to different materials, grippiness, and durability.