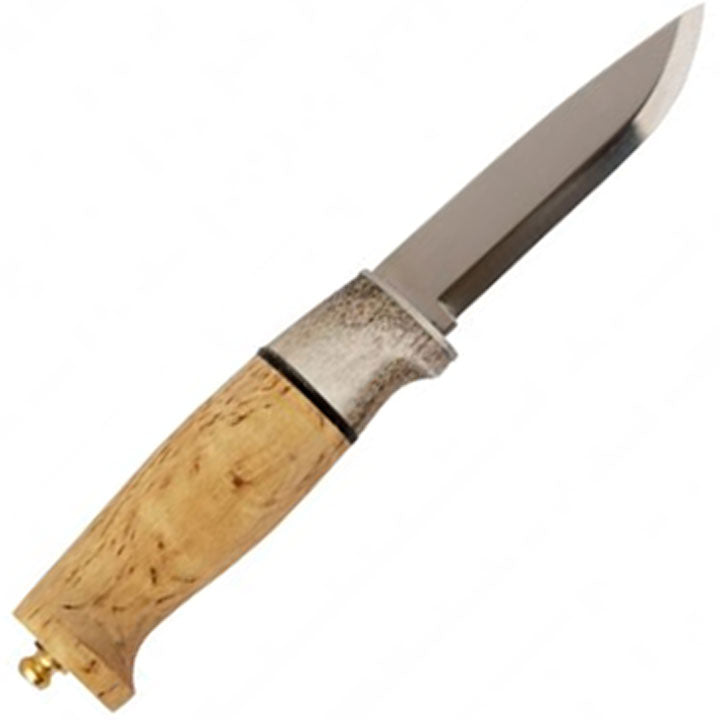 Helle Holken Limited Edition Knife
Sport Hansa's 2018 Limited Edition / Father's Day Knife is the Helle Holken. Holken refers to a type of boat and it also happens to be the name of a pub located near the Helle factory. Quantity will be limited to 350 pieces. Knife tubes are numbered and signed by Torodd Helle, the Managing Director of Helle knives.
Features:
Handle is curly birch and staghorn with a black leather spacer.
Triple layer steel blade.
8" overall length with a 3.75" blade.
It comes with a black leather sheath, cleaning cloth and signed tube.
Product Specifications:
Overall Length: 8.375"

Blade Length: 3.875"

Cutting Edge: 3.625"

Blade Width: 0.875"

Blade Thickness: 0.11"

Blade Material: Stainless Steel

Blade Style: Drop Point

Blade Grind: Scandi

Finish: Mirror

Edge Type: Plain

Handle Length: 4.50"

Handle Width: 1.375"

Handle Thickness: 0.98"

Handle Material: Wood

Color: Wood

Weight: 3.39 oz.

Sheath: Leather

Knife Type: Fixed Blade

Brand: Helle

Model: Holken

Model Number: NR. 631

Country of Origin: Norway

Best Use: Camp/Hike

Product Type: Knife