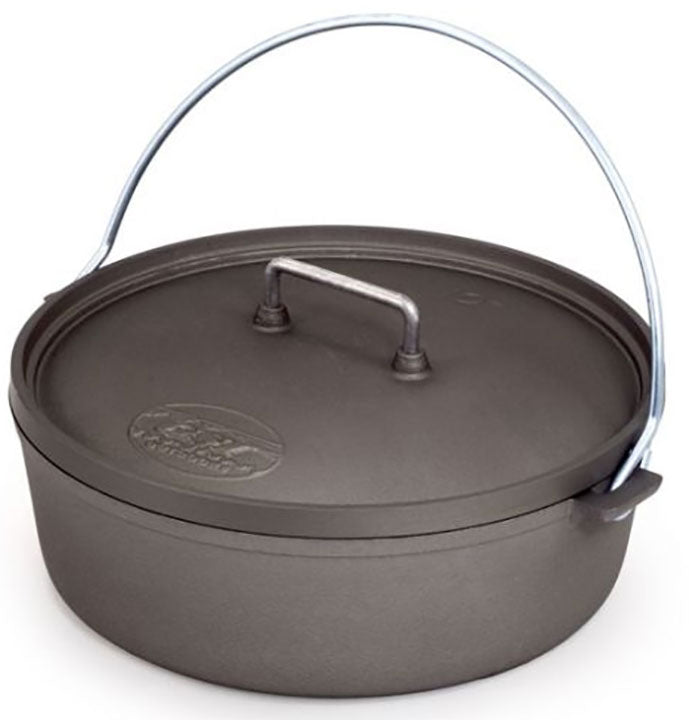 GSI Hard Anodized Aluminum Dutch Oven 10"
It's an easy cleaning, lightweight and packable design. You've never cooked on anything like it, when it comes to reliable baking, browning and roasting, a thick hard anodized surface excels at even heat control. Food cooks up quickly and evenly as the flow of your heat source radiates throughout the top, bottom and sides.
Cast aluminum "non-stick like" performance
One third the weight of cast-iron
Great for Stewing, boiling, steaming, baking, roasting, frying
Tight fitting lid with edge lip to hold coals & charcoal
10" (2 qt.)
Does not have feet so as to nest inside 12" oven, use wire rack below as legs
3 lb 10 oz (1644g)
3.5" deep
Why is the Hard Anodized Process so good?
Anodization is a treatment, not a coating like non-sticks. The ultimate in durability with non-stick like performance. Easy cleaning, excels at even heat control. Harder than stainless steel and incredibly scratch resistant. Will not absorb the flavor of your food, it is nonporous and stick-resistant. Anodizing is a multistage process which actually alters the structure of the aluminum and hardens the surface, sealing the aluminum away from direct contact with your food. Beneath the surface is a core of heat retaining aluminum, known to be lightweight and have excellent heat conduction properties. We suggest that you "season" your hard anodized cookware for optimum performance before the first use… coat it with a liberal amount of oil and bake it at 400° F for 5 minutes to achieve a rich finish that's ready for cooking! Seasoning can be repeated as the oil dries up!