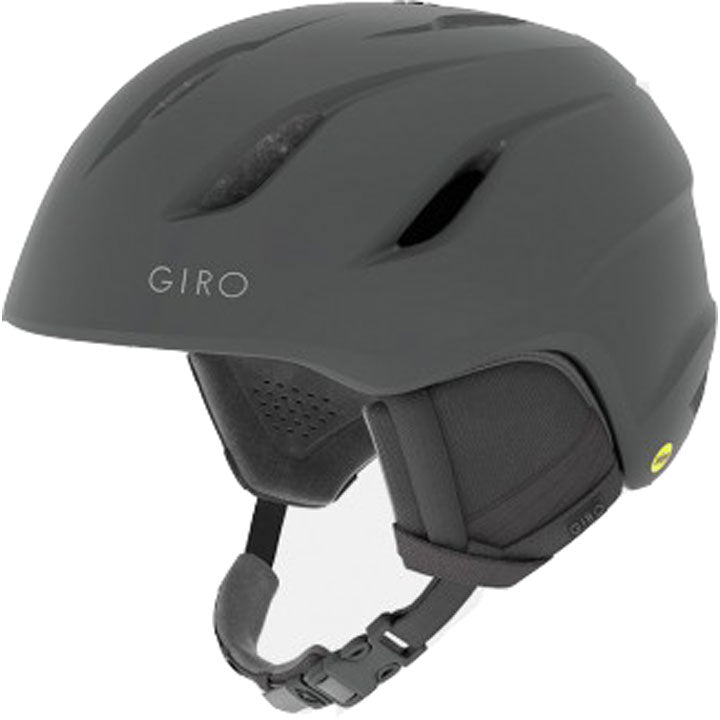 The popular Era MIPS helmet is designed for all-mountain action with feminine charm. The low-profile design of the Era MIPS features the proven performance of In-Mold Construction, our In Form Adjustable Fit System and adjustable venting. The Era MIPS is also equipped with the Multi-directional Impact Protection System, which can provide more protection in certain impacts. The Era MIPS offers incredible value without compromising features—all in a stylish performance package.
ERA MIPS SNOW HELMET: Designed for all-mountain, all-terrain action, The Era MIPS is a new women's-specific form of our most popular men's helmet, the Nine, and now available with MIPS technology.
GIRO SNOW - MIPS: MIPS - Multi-Directional Impact Protection System MIPS is a step forward in helmet design. There are three main components to a MIPS-equipped helmet: the interior foam liner, the Low Friction Liner and an elastomeric attachment system between them. In an angled impact, the elastomeric attachment system stretches to allow the foam liner to rotate independently around your head. The goal of this technology is to further reduce rotational forces.
IN-MOLD: In-Mold Construction fuses a tough polycarbonate outer shell with the helmet's impact-absorbing foam liner. The fusion process allows for better ventilation systems, making in-mold helmets lighter and cooler than traditional helmets.
STACK VENT™: Our Stack Vent was developed based on research showing the majority of the warm air that can cause fogging exhausts from the center top vent of the goggle. Aligning the Stack Vent in the helmet with the center vent of your goggles helps to keep them clear and fog free while maintaining total helmet and goggle integration.
SUPER COOL™ VENTS: Super Cool vents pull cool, fresh air into the helmet while pushing heat and stale air out. By maximizing efficiency and optimizing vent shapes, the collective cooling power of Super Cool vents helps to regulate your core temperature and keep you feeling fresh all day.
THERMOSTAT™ CONTROL: Thermostat ventilation control allows you to custom tune airflow instantly with a simple, low profile control button on the outside of the helmet. No other system is faster or easier to adjust, and nothing is more effective at keeping you comfortable.
WOMEN'S SERIES: The Women's Series™ is a diverse collection of helmet styles, fits and prices tailored to the demands of female riders. While the level of detail and range of colors is unique within the Women's Series helmets, they do not feature a unique "women's fit." That's because there is no anatomic difference between women and men's heads except for the average skull diameter measurement. And since Giro helmet sizes cover 98% of the human population, we believe the Women's Series offers more options to women than any other brand.
Product Specifications:
Construction: MIPS – Multi-directional Impact Protection System, In-Mold Construction

Fit System: In Form Fit System, Vertical Tuning

Ventilation: Thermostat Control adjustable venting, Stack Ventilation

Features: Women's styling and details, Compatible with all aftermarket Giro audio systems by Outdoor Tech, Seamless Compatibility with all Giro goggles