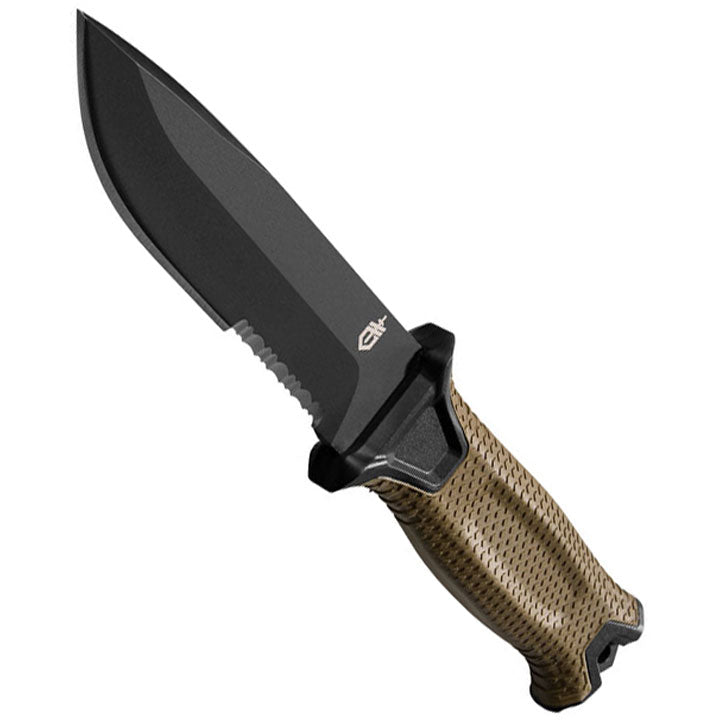 Gerber Strongarm Fixed Blade Knife
With a full tang, 420HC steel blade and rubberized diamond-texture grip, this is a knife you can bet your life on. The MOLLE-compatible multi-mount sheath system offers optimal customization, keeping your knife ever at the ready in combat situations.
DETAILS:
Blade material: 420HC
Handle material: glass-filled nylon with rubber overmold
Blade length: 4.8" (12.2 cm)
Overall length: 9.8" (24.8 cm)
Knife weight: 7.2 oz (204 g)
Overall weight: 10.9 oz (309 g)
Nylon webbing for drop-leg carry and secondary retention
Detachable belt hoops for horizontal belt carry
Snap-in MOLLE strap
Limited lifetime warranty
Made in USA
INNOVATIVE SHEATH: The ever-evolving battlefield demands gear that keeps up, providing versatile and dependable tools built specifically for combat and survival situations. Gerber has been making survival knives for those who serve since 1966, rising to the challenge of honoring decades of experience while continuing to innovate. Gerber's StrongArm does just that: it is a classic fixed blade built for brute strength with a revolutionary sheath system that is the first of its kind. The multi-mount, snap-together sheath is easy to use and can be mounted vertically on MOLLE, horizontally on a belt, or in traditional drop-leg fashion. Customizable to your needs in the field, the StrongArm is the smart evolution of the classic fixed blade.