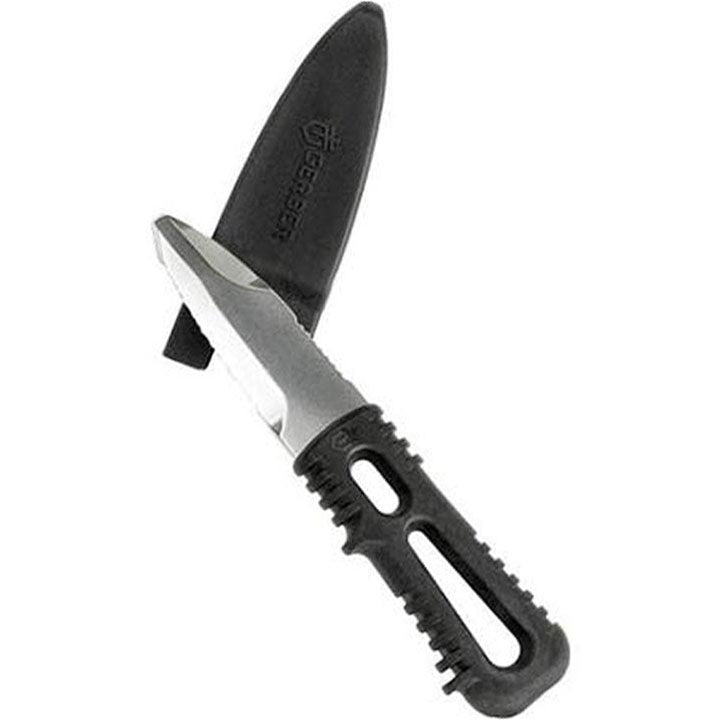 Gerber River Shorty Knife
An excellent water sports knife, the Gerber River Shorty excels in responding to the unique requirements of rafting, paddling and diving. With its sturdy stainless steel blade, extremely light glass-filled nylon handle, and deliberately stunted tip, the River Shorty can be carried into a myriad of high-difficulty water-related situations in its sheath designed expressly for mounting onto a PFD.
HIGH POLISH FOR EXTREME ENDURANCE
Well-polished in order to limit corrosion, the River Shorty does the job in watery elements without making waves. The 3-inch blade offers major versatility, with a small partial serration on the lower edge, and a longer, beefier serration on the upper edge. Remove the lightweight knife from its sheath clipped to a PFD to quickly hack at reeds, cut a tie-off rope, or sever cord. Use the River Shorty back at camp to slice into a watermelon after lunch.
MAINTAIN GRIP NO MATTER WHAT
The glass-filled nylon handle of the River Shorty is not only super-lightweight, but offers great grip with its slightly porcupine-like edges along both sides, a few of which are a bit longer for natural thumb and finger placement along the lower edge. Constructed of hard plastic, the River Shorty's sheath serves adeptly in the world of outdoor water sports. It can engage with the knife in two ways, and can be clipped to a belt, onto a boot, or attached to a flotation vest
Tough Molded Sheath attaches to Personal Flotation Device, pack or belt
Blunt Tip/Safe With Inflatables
Quick Release Lock
Made in USA