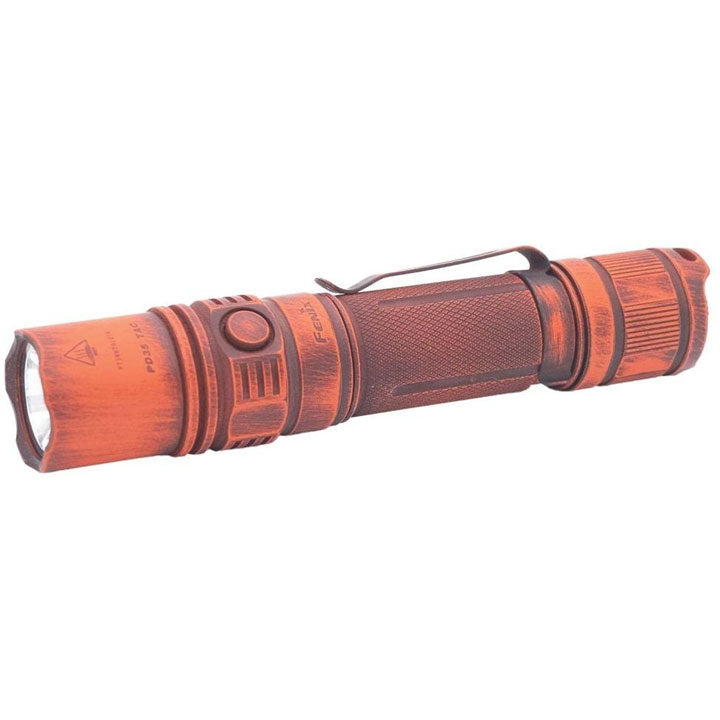 Fenix PD35 TAC Flashlight
The Fenix PD35TAC (Tactical Edition) remains a pocket-size tactical flashlight but has a higher performance and focuses on tactical employment, compared to its predecessor the Fenix PD35. Fenix has taken the all-time bestselling PD35 LED flashlight and added some innovative user features to enhance its tactical capabilities. Measured at less than 5.51 inches, the Fenix PD35TAC flashlight features a 1000-lumen maximum output and has an impressive beam distance of up to 656 feet. The Fenix PD35TAC operates using a single 18650 battery or two CR123A batteries.
The Fenix PD35TAC features two general modes: Tactical Mode and Outdoor Mode. In the Outdoor Mode, the Fenix PD35 Tactical Edition delivers up to 6 output modes for maximum functionality. However, the Tactical Mode strengthens the PD35TAC with a simplified and faster operation. Perfect for outdoor use, professional use, security, & law enforcement, you can count on the PD35TAC to deliver reliable, powerful lighting for a wide range of situations.
About the Blaze Batleworn Cerakote finish and the Texas Flag Cerakote finish: This finish has been produced and perfected by BlownDeadline. Cerakote is a ceramic based finish that can be applied to metals, plastics, polymers and wood. The unique formulation used for Cerakote ceramic coating enhances a number of physical performance properties including abrasion/wear resistance, corrosion resistance, chemical resistance, impact strength, and hardness. Each of these properties is rigorously tested to guarantee that Cerakote products remain at the forefront of the ceramic coatings market. Cerakote ceramic coatings utilize state-of-the-art technology to out-perform any competitive coating in both laboratory settings and real world applications.
Uses Cree XM-L2 U2 LED with a lifespan of 50000 hours
New Cree XP-L LED provides up to 251% performance boost from XP-G2 LED
Two Modes of Operation
Tactical tail switch with momentary-on function
Rugged stainless steel side switch
Side switch only capable of mode changing under Outdoor Mode
Advanced digitally regulated output maintains constant brightness
Low-voltage reminder indicates when battery replacement is needed
Intelligent memory circuit, automatically enters last-used output mode when turned on
Reverse polarity protection to protect from improper battery installation
Anti-roll, slip-resistant body design
Made of durable aircraft-grade aluminum
Premium Type III hard-anodized anti-abrasive finish
Toughened ultra-clear glass lens with anti-reflective coating
Waterproof to IPX-8 standard, underwater up to 6 1/2 feet for 30 minutes
Recommended Batteries: Fenix Lithium-ion Rechargeable 18650 batteries or two CR123A batteries
Included in package: flashlight, holster, lanyard, spare o-rings, spare rubber boot, and user manual
***BATTERIES NOT INCLUDED***
MODES OF OPERATION:
Tactical Mode

Turbo: 1000 Lumens (1 hr., 10 min.)
Low: 60 Lumens (29 hr., 15 min.)
Strobe: 1000 Lumens



Outdoor Mode

Turbo: 1000 Lumens (1 hr., 10 min.)
High: 500 Lumens (2 hrs., 55 min.)
Mid: 200 Lumens (8 hr. 30 min.)
Low: 60 Lumens (29 hr., 15 min.)
Eco: 8 Lumens (140 hr.)
Strobe: 1000 Lumens


SPECIFICATIONS:
Dimensions: 5.4 inches/137mm (Length) x 1 inch/25mm (Diameter)

Weight: 3.1 oz/89-gram weight (excluding the battery)

Battery Type: Cree XM-L2 U2 LED

Material: Aircraft-grade aluminum

Finish: Type III hard-anodized anti-abrasive Cerakote finish