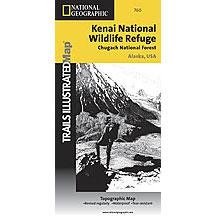 760 Kenai National Wildlife Refuge Chugach Map
The National Geographic's- Trails Illustrated™ folded map is your essential guide for outdoor exploration in Alaska's Kenai National Wildlife Refuge/Chugach National Forest area. The brilliantly illustrated topographical representation shows all trails, campsites, and recreational features, plus relevant info on wildlife, history, geology, and archaeology. Coverage includes Chugach National Forest, Kenai National Wildlife Refuge and Wilderness. Soldotna and Sterling. Skilak, Tustumena and Kenai lakes, Turnagain Arm. Detail maps of the Swanson River and Swan Lake canoe routes. Resurrection, Johnson and Moose passes. Seward Highway Scenic Byway. Rated mountain bike trails. All data is updated to reflect road closings, new trails, and campground relocation.
Printed on waterproof, tear-resistant material with a plastic coating that offers supreme durablity for your next outdoor adventure.
Measures 4" x 9" folded and 28" x 32" fully opened. Map scale 1:105,600