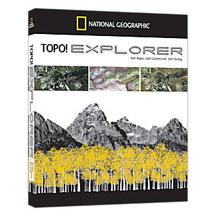 Topo! National Geographic Explorer
Whether you prefer a printed map or connecting to your GPS, TOPO! Explorer gives you the freedom to browse a seamless nationwide set of topographic maps, aerial imagery, and a unique hybrid of the two, for the ultimate in terrain visualization. When you are ready to print, customize, or connect to a GPS, simply download the exact maps you need using map credits. This package includes 25 credits.
Detailed maps are just the beginning. Using TOPO! Explorer you have online access to our National Recreation Database, filled with updated trails, photos, videos, and valuable recreation information. Download the trails for your favorite National Park, add Forest Service roads or wildlife habitat areas. Drop your outdoor photos on the map and click to share them with friends. With TOPO! Explorer, you can give-as-you-get to a community of outdoor enthusiasts
.Internet Connection Required. DSL, Cable, or equivalent high-speed access recommended for performance.
Windows Vista, XP, 2000, ME, or 98; Internet Explorer 6 or higher; 1 GHZ CPU or better; 512 MB RAM + 64 MB video memory; DVD Drive
Mac OS X 10.3.9 or higher; 1 GHZ CPU or better; 512 MB RAM + 64 MB video memory; DVD Drive
For nearly all handheld receivers from Garmin, Magellan, Eagle and Lowrance •Magellan ® Triton™ series users can transfer detailed maps directly to their units.