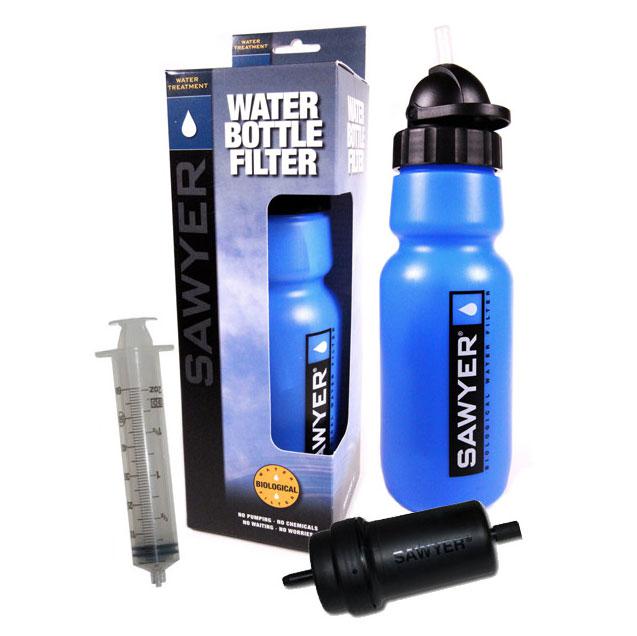 Sawyer SP140 Personal Water Bottle with Filter
Now wherever you go, you can have all the clean, safe water you need, using any water source from home, work, school, restaurants, fountains, lakes or streams. Fill the Sawyer Water Treatment bottle directly from any water source, screw the top on and enjoy clean filtered water instantly.
The durable water filter bottle uses an advanced hollow-fiber membrane Filter can deliver clean water as fast as you can drink it.
Hollow fiber membrane filter physically removes turbidity, protozoa, and bacteria down to 0.1 micron in size, including giardia, salmonella and cryptosporidia.
All Sawyer water filters meet or exceed Environmental Protection Agency (EPA) recommendations for removal rates.
Filter has a high flow rate and provides little resistance so you can easily squeeze water out of the bottle
Filter is fully field maintainable with the included backwash syringe to ensure a fast flow of water
Standard 63mm cap fits on other wide-mouth water bottles
Includes 1Liter bottle with cap, hollow fiber filter, backwash syringe, replacement straws, and instructions
Polyethylene bottle is 100% BPA free
The bottle can be refilled hundreds of times producing an equivalent of over Rs. 30,000/- worth of bottled water per year and can last a decade without needing to be replaced the filter cartridge
Technical Specifications
Bottle Capacity – 1.0 Ltr
Filter Life – Over 3 Million Liters Guaranteed
Removal Rate – 0.1 Micron Absolute
Removes – 7 log (99.99999%) of all bacteria such as Cholera, Botulism (Clostridium Botulinum), Typhoid (Salmonellla Typhi), Amoebic Dysentery, E. coli, Coliform Bacteria, Streptococcus, Salmonella
Removes – 6 log (99.9999%) of all Protozoa such as Giardia, Cryptosporidium, Cyclospora
Polyethylene bottle is 100% BPA free
Field weight – 142 grams
Dimensions – 3 x 11 inches
Life Expectancy: More than 3 Million Liters. Warranty: 1 Year limited warranty only on the filter cartridge, no other parts. Made in USA. NOTE – Our Sawyer Point One Filter does not remove dissolved solids, including chemicals and heavy metals.
Helpful Hints
This filter is not intended for use with saltwater or more turbid water.
Do not allow unit to freeze; freezing may ruin the hollow-fiber membrane.
Do not place in microwave oven.
Do not run hot water more than 60°C through filter.
The design of the filter allows you to back wash it with the enclosed syringe and reuse it over and over again, thus virtually making this the filter last forever and you will ever need to buy as long as you follow the care and use instructions.
All contaminants reduced by this water filter may not necessarily be in the user's water supply.
Kit Includes
1 Liter BPA FREE Durable Water Bottle with a flip-top cap, Sawyer PointONE™ 0.10 Absolute Micron Water Filter, Replacement Drinking Straws,One Cleaning Syringe,Cleaning and Maintenance Instructions.