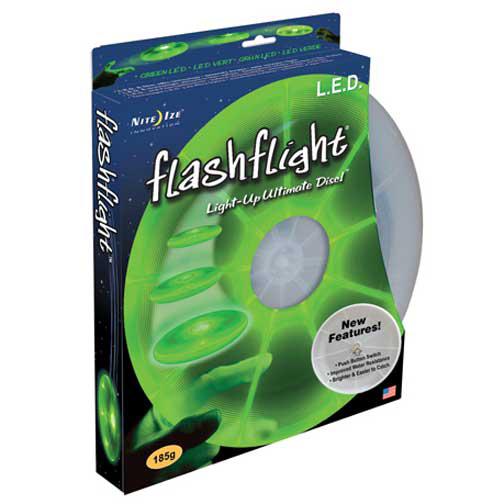 Nite Ize Flashflight Light Up Ultimate LED Disc
The Nite Ize Flashflight was designed by a professional Ultimate player, so it performs beautifully. Made of lightweight, durable materials, with true balance and long, straight flight, it weighs in at 185 grams and looks, feels, and flies like the highest quality non-illuminated discs. In other words, you'll want to reach for it even during the day.
But at night, with a simple press of the switch, the Flashflight lights up with a long-life (100,000 hours) patented L.E.D. fiber-optic array that extends to its rim, so the entire disc is illuminated from every angle. Available in 4 bright colors, it provides endless hours of nighttime entertainment, for everyone from the serious athlete to your crazy Uncle Max. Great for lawn, park, and beach games, it's water-resistant and comes with an easily replaceable, long-life battery.
185 grams
10.5" diameter
Long-life replaceable batteries included – 2 x 2016 3v Lithium Coin Cell
Push Button On/Off Switch
Water resistant – floats!