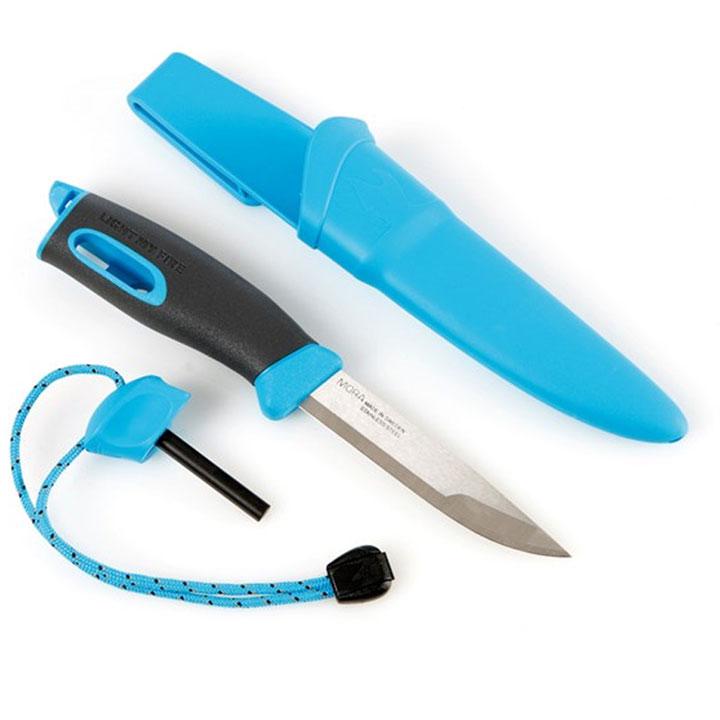 Light My Fire Sweedish FireKnife
A colorful outdoor knife with Swedish FireSteel® fire starter. The Swedish FireKnife™ is a collaboration between Light My Fire and Mora of Sweden, and we could hardly have picked a better partner. Mora has made top-notch knives for 120 years.
But this is more than just an extremely sharp, flexible, and sturdy all-around knife: the handle contains a fire starter. In other words, you can gut and clean a fish, split kindling and light a campfire with one single handy tool.
Mora of Sweden makes this flexible and sturdy blade of Sandvik 12C27 stainless steel.
Scandinavian grind.
Polypropylene sheath with clip.
High-friction, TPE rubber handle.
An original Swedish FireSteel® Scout, with approximately 3,000 strikes, twist locks into the handle for lighting campfires, gas stoves, and barbecues.
Swedish FireSteel firestarter works equally well when wet, performs at all altitudes, and produces a 3,000°C (5,400°F) spark.
Dimensions (in sheath): 8.7" x 1.8" x 1.2" (22 cm x 4.5 cm x 3 cm)
Knife Length: 8.5" (21.5 cm)
Blade Length: 3.75" (10 cm)
Weight (w/ sheath): 3.4 oz. (94 g)

Instructions
Take a small quantity of cotton balls, TinderDust™, dryer lint, or any other flammable material. Build them up into a pile.
a) Grip the FireSteel with one hand,
b) Take hold of the striker/knife with the other hand,
c) Position the striker/spine of knife against the FireSteel rod.
Force the striker/spine of knife 'slowly down' with the thumb of hand holding the FireSteel.