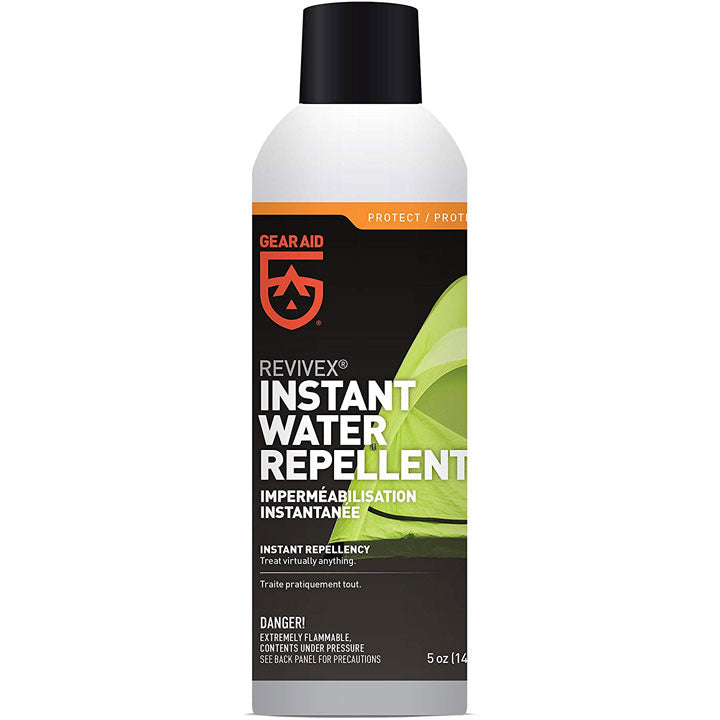 Gear Aid - Revivex Instant Waterproofing Spray
Sometimes you need an all-purpose, easy to use waterproof spray. And now you have it with ReviveX® Instant Waterproofing Spray by Gear Aid™.
ReviveX Instant Waterproofing Spray instantly creates a water, oil and stain repellent surface on all types of outerwear, footwear and gear. Plus, it restores DWR to items that have lost their ability to repel water. Need to waterproof a tent? Just spray the item until saturated and allow it to air dry. Safe for leather, GORE-TEX®, eVent® and other breathable and non-breathable fabrics. Perfect for restoring water repellency to synthetic insulated garments, skiwear, gloves, boots, hats, waders, backpacks—you name it. If you don't want it to get wet, spray it with ReviveX Instant Waterproofing Spray!
Why go around wet and miserable? Use ReviveX Instant Waterproofing Spray by Gear Aid before you set out on that camping trip, hike or fishing adventure. There's no doubt—dry and comfortable trumps wet and miserable, every tim
Convenient, all-purpose waterproofing for all footwear, outerwear and gear
Non silicone formula safe for all fabrics, including leather and GORE-TEX fabric
Creates instant water, oil,and stain repellency with a clear, non sticky finish
No CFCs or PFOAs
Made in USA