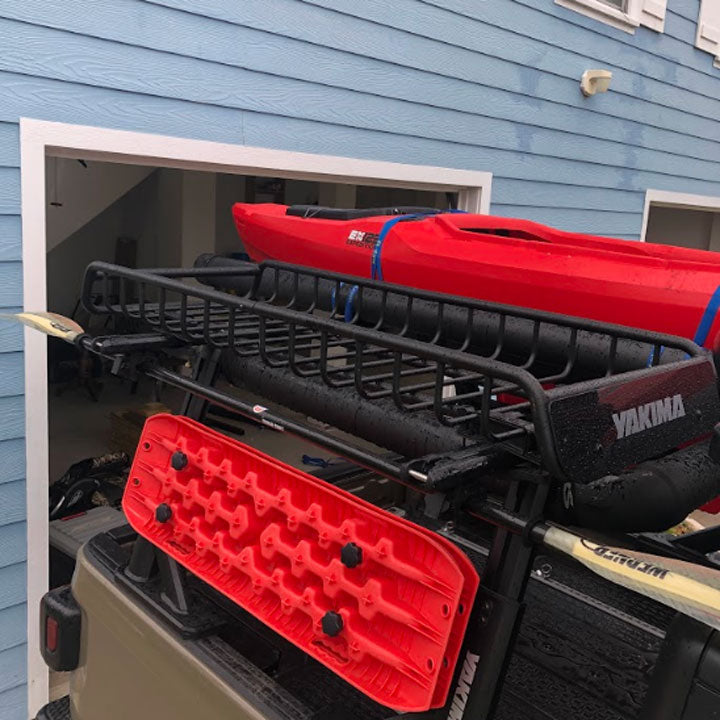 Gear Review: Yakima Skinny Warrior by Zach Poster
Gear Review: Yakima SkinnyWarrior by Zachary Poster
Value rating: 8
Durability rating: 8
Overall rating: 8
Location of test: Traveling to and from Arlington,TX to Rockport, TX
Duration of test: 12 Hrs round trip
Product name: SkinnyWarrior
Product Brand: Yakima 
Best use: Carrying of over sized and/or hard to tie down gear
Size: L 58" X W 23" X H 6.5"
The Full Review:        
            After mounting up the Yakima SkinnyWarrior and loading it up with hard storage boxes filled to the brim with paddling and cooking gear, we headed down to the Texas Coast. Normally, a truck bed is more than enough space for bags, duffels, hard cases and storage boxes, but carrying a Bonafide SS107 fishing kayak in the bed along with a 65 quart Orion cooler, there was no more room.
            Loading up the basket with the boxes was quite a chore due to lifting 60 lbs boxes above head height. However, strapping down the boxes to the basket with 15' NRS straps was a breeze thanks to the rigid 1" diameter bar that surrounds the top of the basket. 
            Once on the road, it was smooth sailing, no unusual whistling or creaking. This is a well-made product that has an endless number of applications. I cannot wait to have more adventures with it.
Pros:
Can carry close to anything that'll fit in its envelope.
Mounts to all Yakima bars (circular, flat, and  hd) and all non-yakima bars (square and factory bars)
Incredibly strong
Little to no wind noise
The entire basket is a tiedown point! It can be a limiting position for rod holders and kayaks so they don't walk on the rack while in transport.
Cons:
Very skinny (kind of obvious from name). The compromise that it doesn't take up much of the surface area of the bar means it is only able to hold one row of gear.
Love it or leave it: LOVE IT. Can carry any size of gear that can fit within the basket, and no struggle to find tiedown points. Though, depending on how much gear you plan to take, the LoadWarrior is able to carry more gear if your cross bars are large enough to carry it!