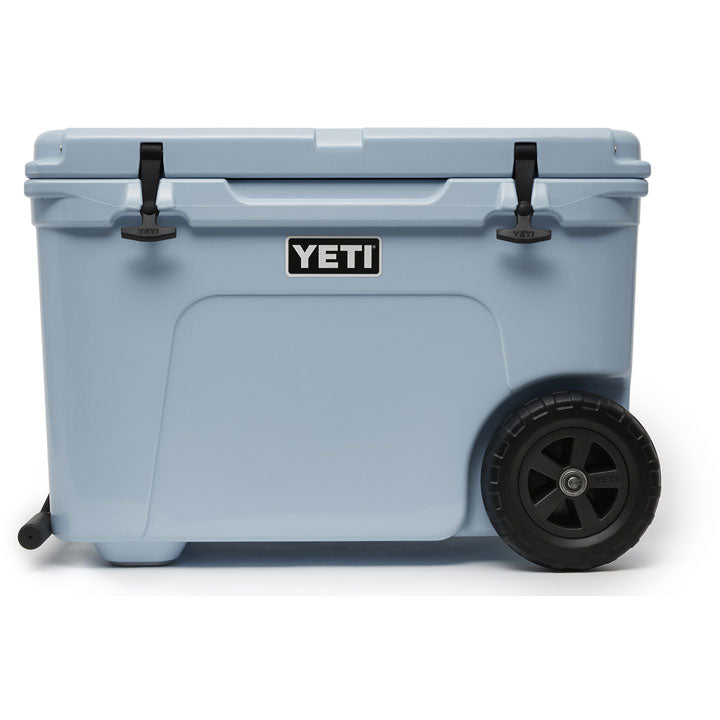 YETI Nation spoke and we listened. Our first-ever YETI cooler on wheels is the answer to taking Tundra's® legendary toughness and unmatched insulation power the extra mile. And nothing was sacrificed in the making of this cold-holding powerhouse, ensuring the Haul™ lives up to the Tundra name. The Tundra® Haul™ is now the toughest cooler on two wheels. Note: Tundra Haul is not compatible with the dry goods basket.
First things first - our nearly-indestructible NeverFlat™ Wheels and T-Bar StrongArm™ Handle join forces to offer the most durable, reliable, and comfortable towing design. And just like its predecessors, this Tundra is built with Rotomolded Construction and PermaFrost™ Insulation, so you can trust your contents will stay frosty, even in triple-digit temps.
TECHNOLOGY & FEATURES:
NEVERFLAT™ WHEELS: Solid, single-piece tire construction is impact- and puncture-resistant.
STRONGARM™ HANDLE: Durable welded aluminum arm with comfortable grips. Curved design tracks left or right for heel-friendly towing.
ROTOMOLDED CONSTRUCTION: Makes it armored to the core and virtually indestructible.
FATWALL™ DESIGN: Extra-thick walls hold up to two inches of insulation for unmatched ice retention.
PERMAFROST™ INSULATION: Pressure-injected commercial-grade polyurethane foam in the walls and lid makes sure your ice stays ice.
T-REX™ LID LATCHES: Heavy-duty rubber latches are made with patented technology so you'll never see another busted latch.
NEVERFAIL™ HINGE SYSTEM: Two hinge pins and interlocking design prevent the hinge from ever breaking.
COLDLOCK™ GASKET: A freezer-quality gasket circles the length of the lid to block out the heat and lock in the cold.
LIPGRIP™ HANDLES: Stay out of the way and make carrying your catch seem less of a chore.
LEGENDARY TOUGHNESS ON WHEELS: The Tundra Haul is the cooler on wheels you've always wanted. The legendary toughness of the classic YETI is built to go the extra mile, taking on rocky terrain and trails in stride. Built with a taller, cube-shaped design, your Haul will hold cold food and drinks for the crew and roll with the adventures beyond Base Camp.
DIMENSIONS & SPECS:
OUTSIDE 28 1/4" × 19 1/2" × 18 5/8"
INSIDE 19" × 13 5/8" × 11 1/4"
EMPTY WEIGHT 37 LBS
CANS OF BEER: 45, POUNDS OF ICE (ONLY): 55, Using a 2:1 ice-to-can ratio by volume