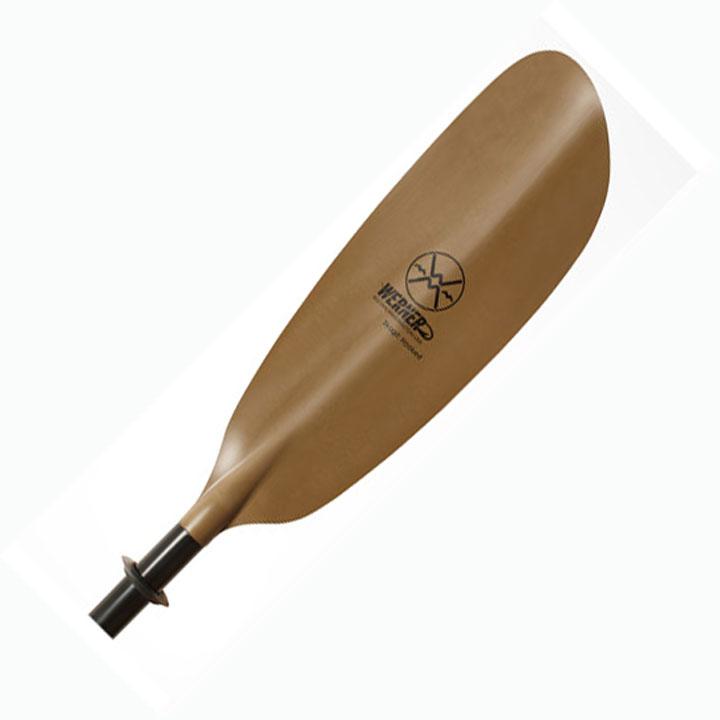 Werner Skagit: Hooked 2 Piece Fishing Kayak Paddle
The Skagit: Hooked offers mid-sized low angle blade with features directly from Werner's premium performance paddles, at a lower price. Great value for entrants to kayak fishing.
The mid-sized, low-angle blades fit the widest range of anglers. Fiberglass reinforced injection molded blades with designs derived from premium performance paddles are extremely durable and offers a good catch and is stable feeling. Available in a carbon blend straight shaft, standard diameter in longer lengths for wider boats and raised seats.
Specifications:
Surface Area 605 sq cm
Blade Length x Width 49 x 15.6cm
Straight Shaft Weight 992g/35oz
Available 240, 250 and 260cm
Skagit: Hooked Paddle Advantages:
Low Angle
The most common paddling style using a more casual cadence.
The paddle is kept at a low angle relative to the water and a relaxed arching stroke is used.
Smooth forward stroke reduces fatigue.
Adjustable Ferrule/Smart-view
Elegant, easy to use design.
Low profile button looks and feels like a 1-piece paddle.
Internal gear system for precise fit.
Viewing window shows you your offset.
Adjusts feather left or right in 15 degree increments.
You determine what feather works best for you.
Straight Shaft
More traditional feeling and generally less expensive.
The lightest weight option available.
Continuous length allows for easy hand movement.
Prop 65 S (Bisphenol A and Dichloromethane): This product can expose you to Bisphenol A and Dichloromethane, which is known to the State of California to cause cancer, and birth defects or other reproductive harm.
https://mtn-sports.myshopify.com/pages/prop-65-frequently-asked-questions