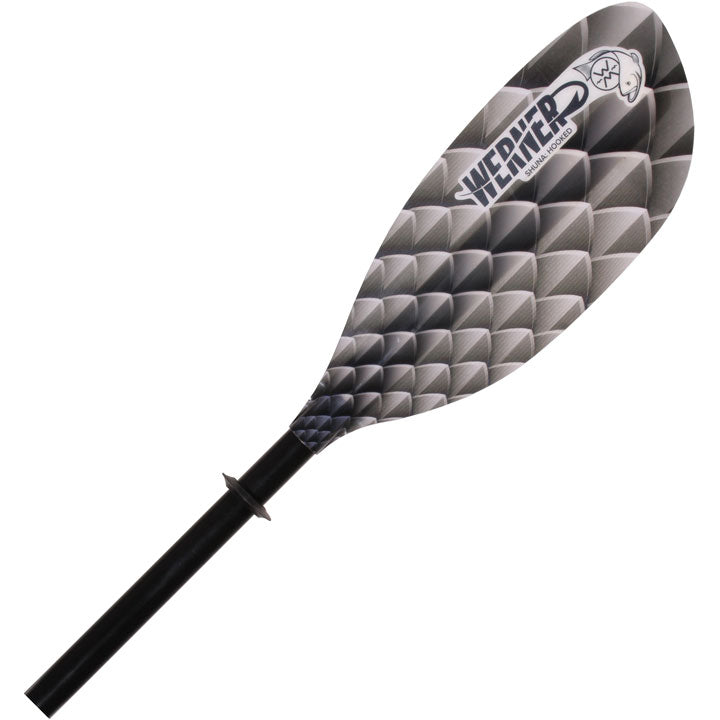 Werner Shuna: Hooked 2 Piece Kayak Paddle
Shuna (pronounced [ shoo - nuh ]): The fisherman working the Hebrides Islands are as rugged as the North Atlantic.
The Shuna is Werner's most popular high angle fishing paddle. For those looking for a more efficient paddling style keeping the boat tracking straighter, this is the paddle to look choose. Still versatile enough for maneuvering strokes when controlling your boat to get a better casting angle. The perfect choice for anglers looking for a light, stiff and durable high angle paddle.
Premium Performance level paddles use material choices and manufacturing skill to allow for a perfect combination of light swing weight and stiffness; fiberglass blade construction gives you a compromise between swing weight and value
Mid-size blades fit the widest range of paddlers.
Dihedral blade shape was created to direct water to flow evenly off each side of the blade creating a smooth and stable stroke
Asymmetrical kayak blades are designed for a balanced stroke, reducing torque or twisting of the blade
Custom shaped, low profile, reinforcement spine allows for enhanced blade maneuverability when linking several strokes and provides blade stiffness and overall strength.
High Angle paddling is typically a more aggressive style of paddling for those with more performance aspirations
The Smart View Adjustable ferrule is the most simple, precise fitting on the market for optimal paddle performance whether offset (feathered) or straight; it provides the solid feel of a one-piece paddle and nothing to snag your line or tackle
Werner's premium carbon shaft is expertly engineered in house with a higher percentage of carbon materials versus fiberglass maintaining comfortable flex
Product Specifications: