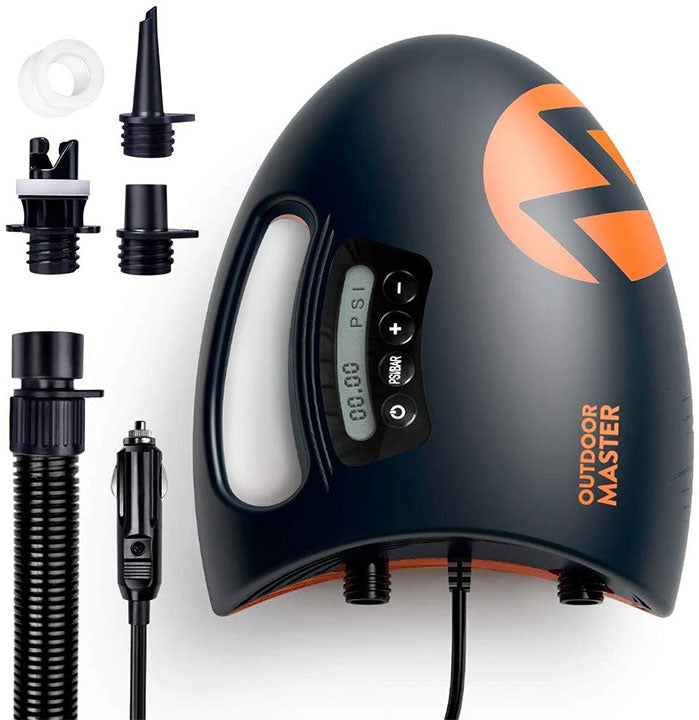 Outdoor Master Shark OP 20 PSI High Pressure Pump
SPECIFICATIONS
Supported Pressure Range: 0.5-20 PSI (0.034-1.378 Bar)
Digital Sensor Accuracy: 0.01 PSI
Inflation Auto-Off Function: Max Pumping Speed: 350L/min at 1st Stage, 70L/min at 2nd stage;Dual Inflators Switch Point: 1 PSI
Built-in Sand Filter: Max Energy Consumption: 10A, 120W (12V), DC Power Cord Length: 9ft (2.75m), 4.5ft Hose, Net Weight: 3.6 Lbs
Nozzles Specs: 1 x C7, 1 x H3, 1 x Cone-shaped - Diamter 0.28inch / 7.3mm at opening, Round - Diameter 0.67inch / 17mm at opening
Package Includes: 1 x OutdoorMaster THE SHARK, 1 x 4.5ft Hose, 3 x Nozzles, 3 x Gaskets, 1 x Manual
Fitted Board: Advanced Element, Atoll, Dynamo, Fanatic, Hero, Hydro-Force, iRocker, Nixy, Peak, Redpaddle, ROC, Thurso and other major iSUP board brand.
FEATURES
FROST ACTIVE COOLING SYSTEM: Patented interior design with unique FACS provides super fast cooling performance under any condition.
CAR CONNECTOR & FULL-SET NOZZLES: Connects to your car's 12V DC connector. Features a 12A fuse for better safety. Comes with a full set of nozzles to fit most of the high pressure inflatables including C7 & H3 valves.
DIGITAL DISPLAY: Use the digital display to set your desired pressure up to 20 PSI and monitor the pressure whenever you need.
DUAL-STAGE & AUTO OFF: Automatic dual-stage pump: 1st stage for MAXIMUM Speed at 350/min and 2nd stage at 70L/min. 20PSI to inflate up to 3 boards in a row.
VARIETY IN USE: Compatible with virtually iSUP, boats and kayaks.
ECO-FRIENDLY & TEST-APPROVED: The SHARK has passed multiple tests with CA65, CE and RoHS compliant certification and partnership with SUPIA , Paddle 2 the people and WEEE. Its durability and eco-friendly material will offer you a promising summer journey.