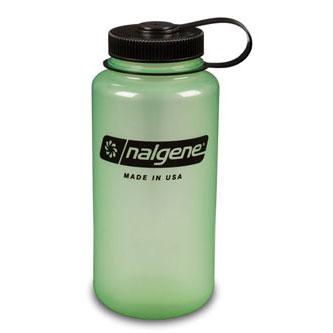 Nalgene 32oz Wide Mouth Glow in the Dark Bottle
Here is something new from Nalgene. A 32oz Wide-Mouth bottle made from BPA free Everyday material that glows in the dark. Expose it to the light for a while and you will be able to see it in the dark. You may ask, "How much does it glow?". Well, that's kind of hard to answer, you can't read by it, it won't lead Santa's sleigh, but you can see it in a dark room or campsite. If it's on your bed stand you will be able to see it in the middle of the night. Faintly, but it's there.
This bottle is not as clear as some of other colored Everyday bottles but you can see a waterline. Its not quite opaque but it is close. All the other features of the Everyday material remain the same.
The large opening on the wide-mouth bottles easily accommodates ice cubes, fits most water purifiers and filters, and makes hand washing a breeze. The attached loop-top never gets lost and screws on and off easily. Printed graduations let keep track of your hydration. Dishwasher safe (Please make sure the top does not touch the heating element, or it will melt).
Don't ask us to explain how it works but the material that makes this bottle glow is made from plants.
Extremely durable
Resistant to retaining odors
Dishwasher Safe - Please make sure the cap does not touch the heating element
Withstands temperatures from -40ºF to 212ºF
This bottle is made from Eastman Tritan TM copolyester that is manufactured without Bisphenol A (BPA)
This bottle has a recycling code of #7, which means other.
It does not contain BPA
Made in USA