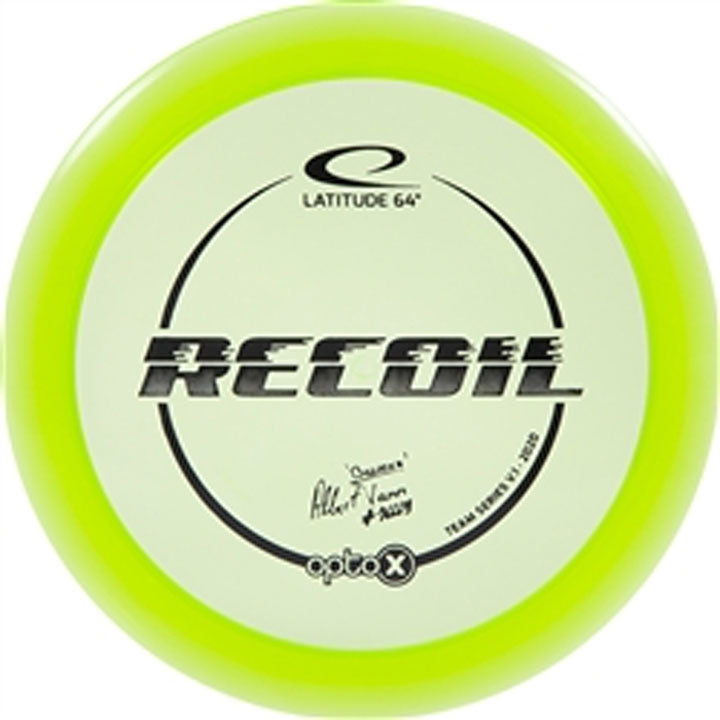 Latitude 64 Recoil Distance Driver
Stamp color will vary.
The Recoil fills a gap in many players' bags between an extremely overstable distance driver and a hyzer-flip driver. Almost like the "Explorer of distance drivers", throwers can count on a straight flight and consistent fade from the Recoil. Enter Albert Tamm. Albert loves the Recoil, but he sometimes needs it to have a little more overstability than the Opto version. Hey, if your nickname was "The Bazooka", you would need that too! The Opto-X Recoil gives players exactly that - firmer feel, torque resistance, and a bit more fade. Players looking for a distance driver to cover various situations will love the Opto-X Recoil, and it might even help out their celebration game! Purchases of the Opto-X Recoil directly benefit Albert's 2020 tour.
When you need the distance but you do not want to compromise on control, the Recoil fits the bill. Rated at speed 12, this overstable distance driver has a comfortable grip and the mild low speed fade makes it easier to stay on the fairway.
Speed: 12 Glide: 4 Turn: 0 Fade: 3