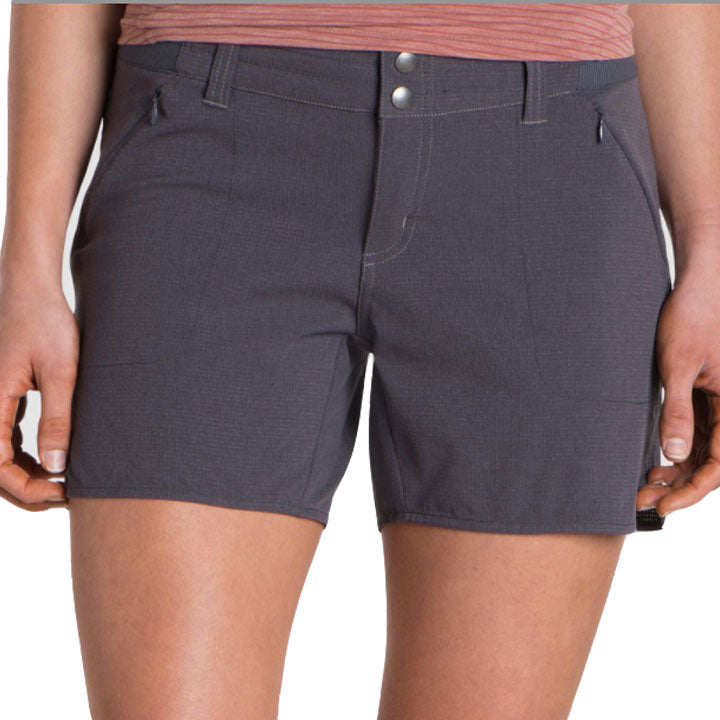 Kuhl Strattus Shorts Womens
The KÜHL STRATTUS™ SHORT is constructed of RIPSTOP AIR™ woven, stretch fabric. A soft, lightweight, air permeable fabric, RIPSTOP AIR flatters your curves and says no to wrinkles.
KÜHLKURVE™ fit and the wide rib knit waistband make short extremely comfortable; the internal draw cord provides a custom fit. The comfortable scalloped hem adds feminine detail.
Stash your valuables in two front, conceal zip pockets or the hidden, conceal zip pocket behind back left pocket.
ADVANCED FABRICS:
Fabric: main body: RIPSTOP AIR™ 96% Polyester, 4% Spandex | 4.8 oz/sq. yd; 163 GSM
Waistband: 91% Polyester, 9% Spandex | 6.5 oz/sq. yd; 220 GSM
FIT: KÜHLKURVE™
INSEAM: 5"
Soft breathable wicking fabric with stretch
2 front conceal zip pockets for secure stashing
DIFFERENT BY DESIGN:
Wide rib knit waistband with internal draw cord for comfort
Hidden conceal zip pocket behind back left pocket
DIFFERENT BY CONSTRUCTION:
Scalloped hem for comfort and feminine detail
Imported