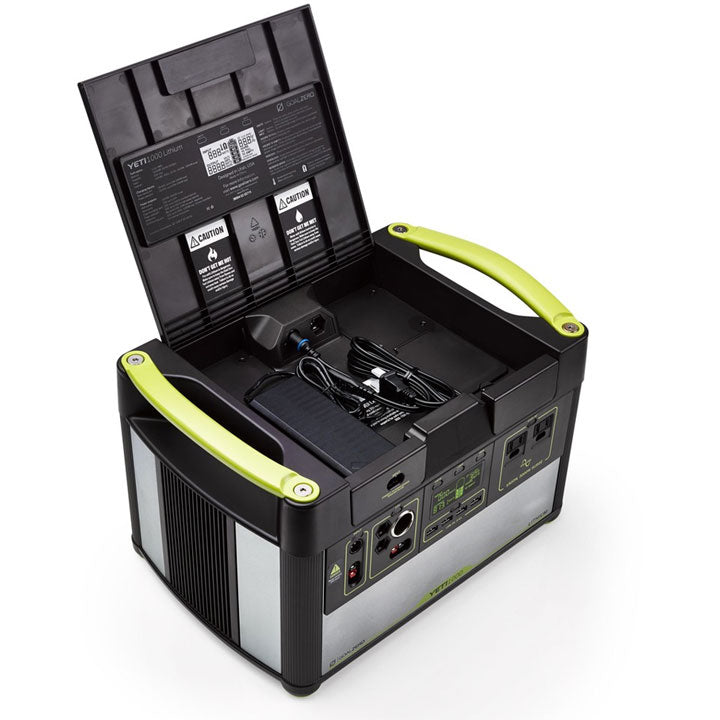 Goal Zero Yeti 1000x Portable Power Station
Save

Liquid error (snippets/product-badge line 32): Computation results in '-Infinity'

%
983 Watt Hours makes this versatile station an essential for powering devices and smaller appliances. Efficiently charges phones, laptops, camera equipment, TVs, portable fridges, medical devices, and more.
YETI 1000X HIGHLIGHTS
GOODBYE GAS GENERATOR. HELLO YETI X.
With a lithium-ion battery at its core, the Goal Zero Yeti X equips you with safe, clean, portable power for camping, tailgating, off-grid events, workshops, and emergency power during an outage.
FASTER CHARGING FROM THE WALL
Yeti 1000X offers up multiple recharging options. Included 120W Power Supply plugs into the 8mm charging port to recharge the Yeti in 9 hours. Industry-leading 600W High Power Port lets you recharge in as little as 2 hours using the Yeti X 600W Power Supply (sold separately).
VERSATILE PORT OPTIONS
Power a wide range of devices with seven different port options including fast-charging 60W USB-C Power Delivery, multiple USB-A ports, regulated 12V, and two 120V AC ports.
EXPERIENCE UNLIMITED POWER
Charge the Yeti 1000X from the sun with our portable solar panels while away from the grid, and keep it topped off from a wall outlet when you're home. Integrated MPPT charge controller ensures you're getting the most efficient solar charge possible.
Smart Phone
(12Wh):
82 recharges
Tablet
(30Wh):
33 recharges
Laptop
(50Wh):
20 recharges
POV Camera
(5Wh):
197 recharges
DSLR Camera
(18Wh):
55 recharges
Head Lamp
(5Wh):
197 recharges
Light-a-Life 350
(4.5W):
219 hours
Light Bulb
(11W):
90 hours
TV (42" LED)
(100W):
10 hours
CPAP
(65W):
15 hours
Pellet Grill
(60W):
17 hours
Microwave
(1000W):
1 hour
Portable Fridge
(25W):
40 hours
WiFi Router
(25W):
40 hours
Mini Fridge
(35W):
28 hours
Full Size Refrigerator
(71W):
14 hours
THREE WAYS TO CHARGE
FROM THE SUN
Recharge from the sun by connecting a compatible solar panel. Charge times are dependent on the size of the solar panel. The

 

Boulder 100 Briefcase

 

will provide 100W of solar and fully recharge the Yeti 1000X in 12-24 hours.
FROM THE WALL
Plug it into the wall. Fully recharges in 9 hours using the included 120W Power Supply AC Wall Charger. Not quick enough? Drop your recharge time to 2 hours using the available

 

600W Power Supply

 

or 4.5 hours with the

 

230W Power Supply.
FROM THE CAR
The Goal Zero Yeti 1000X can be charged by plugging into your 12V adapter using the

 

Goal Zero Yeti Lithium 12V Car Charging Cable.
RECHARGE CHARGE TIMES (0-100%)
AC Wall Chargers (600W Input Max)
120W Power Supply (Included): 9 hours
230W Power Supply (Add-on Purchase): 4.5 hours
600W Power Supply (Add-on Purchase): 2 hours
Solar Charging (600W Actual Input Max)
*NOTE: Solar Panel Rated Watts are only what the Panel is rated to produce in perfect temperature/orientation/angle/full sun conditions with no losses due to cables, etc.  
100W Rated Panels (Boulder 100 BC/Nomad 100): 12-24 hours of sunlight
200W Rated Panels (Boulder 200 BC/Nomad 200): 6-12 hours of sunlight
400W Rated Panels (2x Boulder BC/Nomad 200): 4-8 hours of sunlight
600W Rated Panels (3x Boulder 200/2x Ranger 300): 2-4 hours of sunlight
800W* Rated Panels (4x Nomad 200/etc.): 3-6 hours of sunlight
1200W* Rated Panels (4x Ranger 300/etc.): 3 hours of sunlight
*Rated Panel systems greater than 600W increase likelihood of yielding the max Yeti solar input throughout the day and in imperfect conditions
GENERAL
SKU: 36200
Chainable: No
Weight: 31.68 lbs (14.37 kg)
Dimensions: 15.25 x 10.23 x 9.86 in (38.74 x 25.98 x 25.04 cm)
Operating usage temp.: 32-104 F (0-40 C)
Certs: CE FCC
Warranty: 2 years
BATTERY DETAILS
Cell chemistry: Li-ion NMC
Pack capacity: 983Wh (10.8V, 91Ah)
Single Cell Equivalent Capacity: 273Ah @ 3.6V
Pack Lithium Content: 82g
Lifecycles: 500 Cycles to 80% capacity (Discharge rate: 1C, Full charge/discharge, Temp: 25C)
Shelf-life: Charge every 3-6 months
Management system: MPPT charge controller
PORTS
INPUT
1x High Power Charging port (AC or Solar): 600W Max (14-50V, up to 50A)
2x 8mm charging port (AC or Solar): 150W Max (14-50V, up to 10A); Front face & under lid
INPUT/OUTPUT
1x USB-C PD port: 60W Max (5 - 20V, up to 3.0A), regulated
OUTPUT
2x AC: 1500W, 3500W Surge (120VAC 60Hz, 12.5A), Pure Sine Wave
2x USB-A: 12W Max (5V, up to 2.4A), regulated
1x USB-C: 18W Max (5 - 12V, up to 3.0A), regulated
3x 6mm: 120W Max (12V, up to 10A), regulated 

 

Front face & under lid 

1x Car Port: 160W Max (12V, up to 15A), regulated
1x High Power Port: 180W Max (12V, up to 15A), regulated
Expansion Module Port:  Under the lid - To be used with Goal Zero expansion modules only
RUN TIME
Recharges
Smart Phone (12 Wh): 82
Tablet (30 Wh): 33
Laptop (50 Wh): 20
POV Camera (5 Wh): 197
DSLR Camera (18 Wh): 55
Head Lamp (5 Wh): 197
Hours of Runtime
Light-a-Life 350 (4.5 W): 219
Light Bulb (11 W): 90
CPAP (65 W): 15
TV (42" LED) (100 W): 10
Pellet Grill (60 W): 17
Microwave (1000 W): 1
Portable Fridge (25 W): 40
WiFi Router (25 W): 40
Mini Fridge(35 Wh): 28
Full Size Refrigerator (66 Wh): 15
Circular Saw (13 Amp) (1500 Wh): 0.5