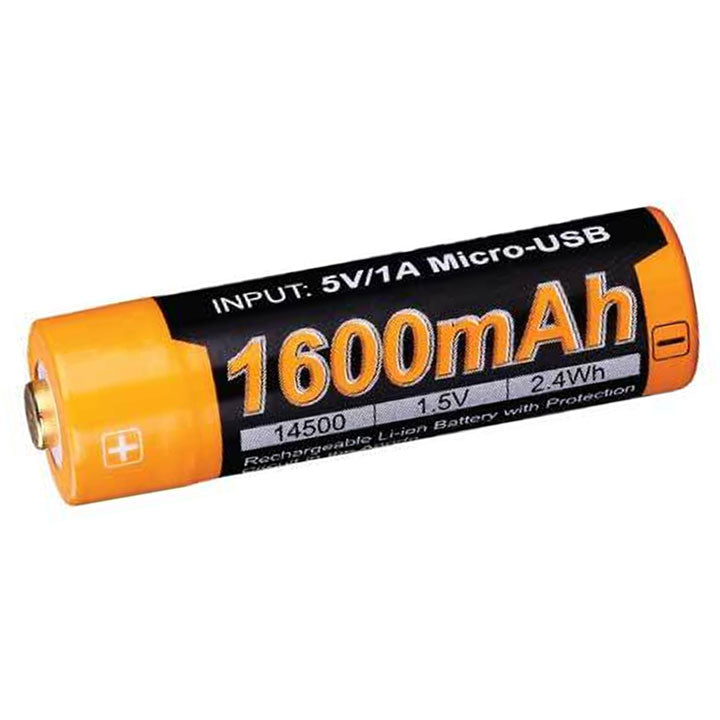 Fenix ARB-L14-1600U Built-In USB Recharge Battery
ARB-L14-1600U is a high capacity 14500 Li-ion rechargeable battery with a built-in micro-USB charging port. It also includes a protection circuit in the anode to help prevent short circuits, over charge/discharge and over heating. This battery can quickly be charged without the need for a separate charger. This not only save you money from purchasing a charger, but also convenience of not having to carry around another device. This will work in all of the models that utilize the standard AA battery. This battery is a great rechargeable alternative to alkaline AA battery.
Micro-USB charging port
1600mAh high capacity
Protection circuitry to prevent short circuits
Pressure vents to prevent explosions
500 charge cycles
Voltage: 1.5V
Charging Current USB Port: 300mA
Charging Current: Only charge using USB cable to USB port on battery. Do not charge by other device.
Product Specifications:
Dimensions: Length: 1.97″ (50mm) Diameter: 0.57″ (14.5mm)

Weight: 0.67 ounces (19g)

Battery Type: Li-ion

Warranty Period: 12 month from date of purchase