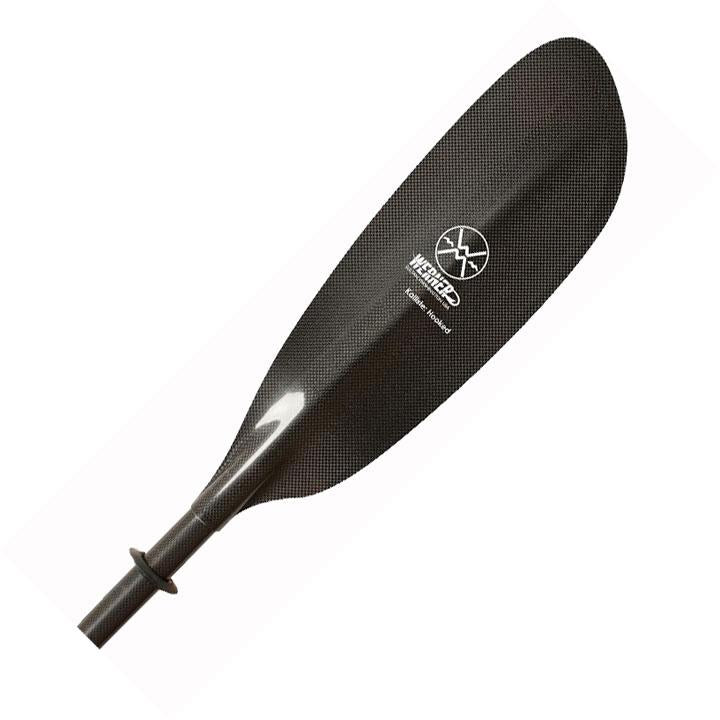 Werner Kalliste: Hooked 2 Pc. Kayak Paddle
The Kalliste:Hooked is Werner's top of the line, low-angle, fishing paddle trusted by some of the best anglers on the water. The Kalliste, pronounced Ka•list•ah, features a foam core touring blade, providing ultimate performance with an exceptionally light, buoyant and quiet feel on the water. It makes makes chasing fish, even over the longest days, feel effortless.
Mid-size, low angle blades fit the widest range of paddlers. It provides performance without losing confidence, with decades of paddle experience nobody matches its strength to weight ratio. A common question from anglers and the answer is, "yes, it's plenty strong." The dihedral blade shape allows for smooth forward and directional paddling. Its smooth back face allows for a quieter catch and effortless exit of the stroke. Dynel® edges protect the paddle from the rigors of the touring environment.
Specifications:
Surface Area: 643 sq cm
Blade Length x Width: 52 x 16.5cm
Straight Shaft Weight: 680g/24oz
Available Lengths: 250cm and 260cm
Kalliste: Hooked Paddle Advantages
Low Angle
The most common paddling style using a more casual cadence.
The paddle is kept at a low angle relative to the water and a relaxed arching stroke is used.
Smooth forward stroke reduces fatigue.
Adjustable Ferrule/Smart-view
Elegant, easy to use design.
Low profile button looks and feels like a 1-piece paddle.
Internal gear system for precise fit.
Viewing window shows you your offset.
Adjusts feather left or right in 15 degree increments.
You determine what feather works best for you.
Straight Shaft
More traditional feeling and generally less expensive.
The lightest weight option available.
Continuous length allows for easy hand movement.
Prop 65 R (Lead)2: This product contains lead, which is known to the State of California to cause cancer, and birth defects or other reproductive harm.
https://mtn-sports.myshopify.com/pages/prop-65-frequently-asked-questions