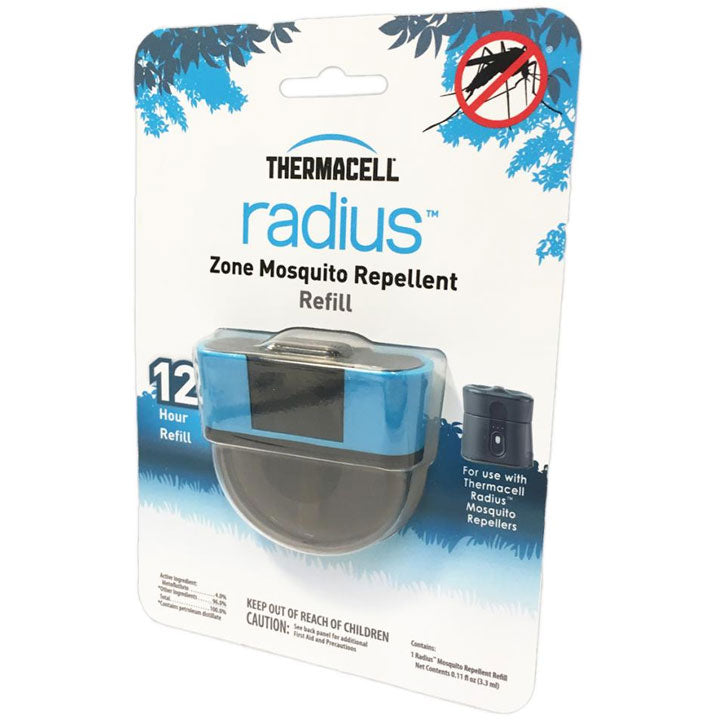 Thermacell Radius Refill 12 Hours
Use this 12-Hour Refill to keep your RadiusTM Zone Mosquito Repellent repelling mosquitoes. This refill is not compatible with Thermacell Mosquito Repellers requiring a fuel cartridge and repellent mat.
At the push of a button, Radius creates a zone of protection from mosquitoes. Rechargeable, compact and powerful, Radius works anywhere from the remote wilderness to your backyard patio.
With Radius, Thermacell brings its most significant innovation since the launch of its very first butane powered repellent in 1999. Our customers have been asking for a mosquito solution that is even smaller, can travel on an airplane and operate at any elevation. Our product development team created a battery powered platform to deliver on these needs – and the most amazing part is that it's push-button simple! Radius Zone Mosquito Repellent is a new, easy, and better way to fight mosquitoes without the use of spray. Rather than treating your skin, Thermacell Zone Repellent Technology treats the area around the user.
Rechargeable:
Lithium Ion Battery provides 6+ hours of use per charge
USB interface for universal charging
Can operate while charging
Scent Free:
Creates a silent, scent-free, invisible zone of protection
No spray, no lotion, no mess
Weather Resistant:
Durable construction
Built to withstand the elements
Impact resistant
Fast Acting:
The zone of protection forms in just minutes
Push-button simplicity
Long-Lasting Refill:
Long life refills available, up to 40 hours each
Fully sealed refill can be started and stopped multiple times
Auto Shut-Off Timer:
In case you forget to turn it off
Optional pre-programmed setting
Long-Lasting Refill:
Cordless, lightweight, minimalist design for use anywhere
Materials approved for air travel