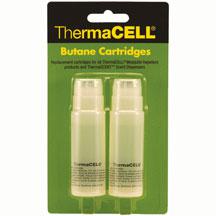 Thermacell Butane Cartridge 2 Pack C-2
ThermaCELL 2-Butane Cartridge Refill Some people run out of butane before they run out of mats. This may happen either because they forget to turn off their appliance after using it, or because they don't change their mats as often as is ideal. For this reason, ThermaCELL offers a Butane Cartridge blister 2-pack in addition to its regular mosquito repellent refill kits.
Refill provides up to 24 hours of energy for ThermaCELL or ThermaSCENT appliances.
Refill Includes 2 cartridges.
Cartridges don't need to be used all at one time.
For example, one could use the cartridge for an hour a day.
Simply turn the unit off and restart when ready.
Cartridges can be stored for long periods of time. They are not perishable.
Ground shipping only.