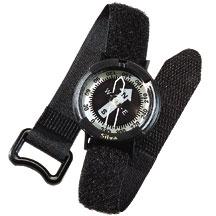 Silva Wrist Sighting 424 Compass
A wrist watch style sighting compass with side reciprocal reading window allows for bearing readings. The easy rotating capsule has teeth for bearing lock and 5° dial graduations and luminous North-South arrow, cardinal points and degree dial for night use. These features make this compass perfect for cycling, hunting or canoeing. A hook and loop cinch strap securely fastens it to the wrist.
Dial Size: 1-9/16" x 1-15/16" x 5/8"
Weight: 0.6 oz.