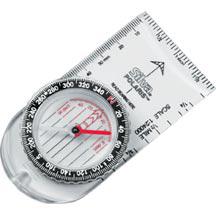 Silva Polaris 177 Compass
If you've been looking for a compass that'll give you excellent value and superior accuracy, your search is over. The Polaris Model 177 compass has everything you need to help you find your way. Its 2° graduation lines and large numerals are at every 20° mark. And its clear base plate makes it easy to read a map and set bearings. To get a precise needle match, just match the red needle to the red in the capsule. This makes it easy to read a map and plan a trip. Our declination correction scale allows you to make quick adjustments of map bearings to field headings. And the compasses' sure-grip dial and ergonomically-contoured base plate rests comfortably in your hand. Other features include, inch and millimeter scales for mapping and plotting, and our rotating capsule helps you lock in bearings. A lanyard hole makes it easy to insert a cord for convenient carrying. May be shipped without blister packaging.
Size: 2 1/16" x 3 1/8"
Weight: 0.8 oz.