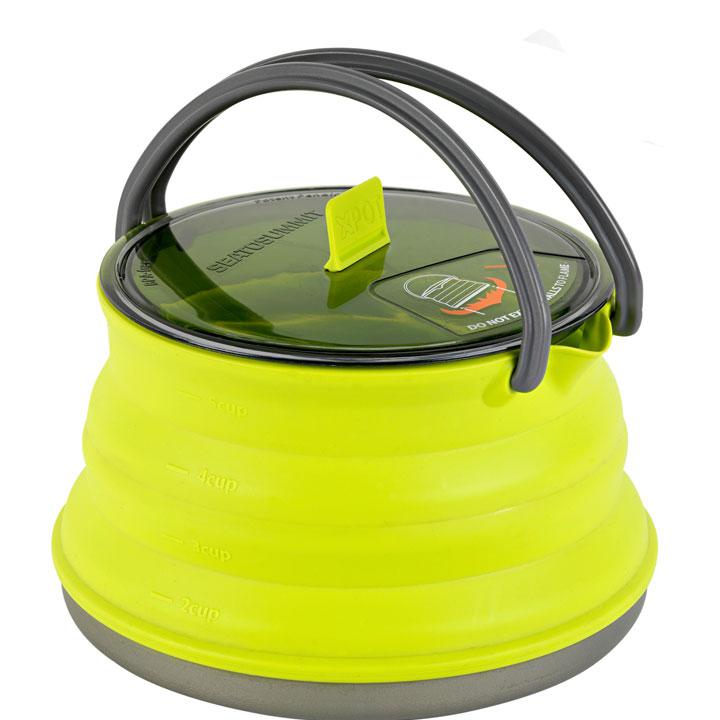 Sea To Summit X Kettle 1.3L
The X-Pot / Kettle is a tiny addition to your cook kit collapsing to 1 3/8" (35mm) with a 1-liter safe boiling capacity. A perfect complement for freeze-dried food, this kettle is all you need for two warm meals in one boil. It can also be used as a pot with an opening wide enough for stirring when cooking pasta or rice dishes. The wide base absorbs maximum heat from the stove while protecting the silicone walls. Two glass-reinforced Nylon 66 handles support the upper rim and improve control when pouring. Two X-Mugs will nest inside, while the X-Pot / Kettle itself fits inside the X-Pots to create an exceptionally compact cook system.
Sides of kettle should not be exposed to direct flame.
BPA free,food grade, heat resistant silicone
Hard anodized 6063-T6 aluminum base
Durable translucent lid
Two glass-reinforced Nylon 66 handles
Product Specifications
Dimensions: 6 in.(dia.) X 3.5 in.