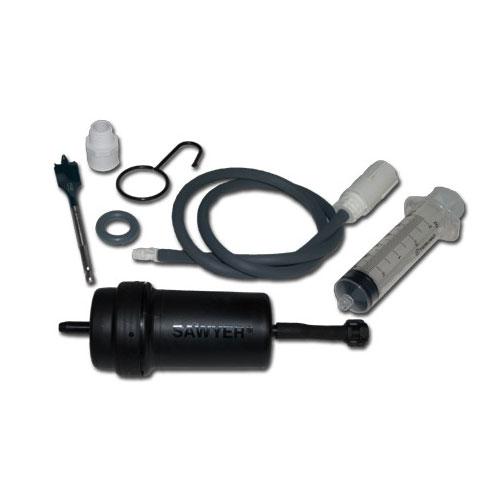 Sawyer Point Zero Two™ Viral Water Purifier SP191
The Sawyer Point Zero Two Viral Water Purifier is perfect for medical facilities where a sterile environment is required as it delivers a 0.02 micron absolute removal rate, filtering all harmful bacteria AND viruses. The Sawyer Point ZeroTWO™ Viral Water Purifier offers the same level of protection against bacteria and protozoa as the PointONE™, and is the first portable filtration device to remove viruses mechanically. It does so at a 0.02 Micron Absolute 5.5 log (99.9997%) removal rate, the highest level of filtration available today. The Sawyer Point Zero Two is a POINT-OF-USE SYSTEM. It removes Viruses, Bacteria, and Protozoa in as little as 15 minutes, eliminating the need to store water which reduces the chances of water being contaminated after it's filtered. The only external force required for the system to function is gravity. This small, lightweight filter kit can provide up to 170 gallons of clean water per day. The kit includes everything you need to attach the filter to any plastic bucket or container (bucket not included). Kit Includes
Sawyer 0.02 Absolute Micron Inline Water Purifier
Adapter
Hose
Hole Cutter
Faucet Adapter
Filter Hanger
Filter Cleaner
Easy Set-Up and Use
The ease of operating the PointONE filter makes it self-sustainable and dependable. It can be installed in minutes, and the only external force required for the system to function is gravity. The kit provided includes everything needed to attach the filter to any plastic bucket or container and begin filtering water. To install the system, users:
Obtain a clean bucket or plastic container.
Use the hole cutter to drill a hole 1.5 inches from the bottom of the bucket (you can do this by hand).
Screw the connector, hose and filter onto the bucket.
Fill the bucket with water from any source, lower the filter head below the water line, and let gravity do the rest.