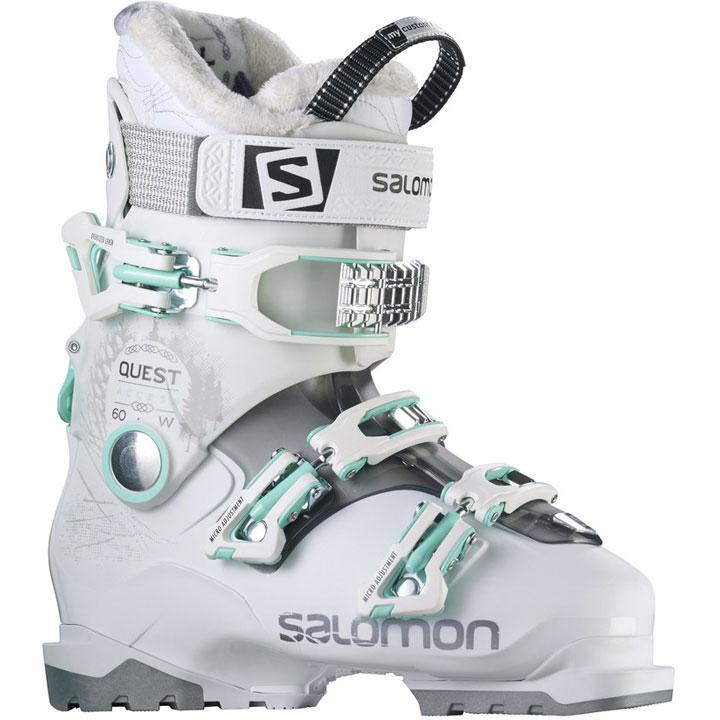 Salomon Quest Access 60 Womens Ski Boot 2016
True beginners and mellow intermediates that have a medium to wide foot shape and medium to wide leg shape love the Salomon Quest Access 60 W. With a very soft 60 flex rating and 104mm last, the Quest Access 60 is very forgiving and supportive for a lighter or newer skier to learn how to keep their knees over their toes and flex a ski boot properly. Salomon's 24mm Oversized Pivot connects the upper cuff to the lower shell and drives energy directly to the edges of your skis. Ride and Hike Technology allows you to walk very easily in the boot by unlocking the cuff of the boot and giving you more rearward mobility, so your stroll to the chairlift will be nice and easy. The Specific Women Low Cuff is designed for the shorter fuller female leg shape to be comfortable. The Quest Access 60 has Woolmetal insulation, which is a mix of wool and metallic polyester that has great insulating properties to keep you warm all day on the mountain. Salomon's My Custom Fit Comfort Women Specific Liner has more taper to it and a narrower heel pocket to keep your foot supported and comfortable. If you are looking for a boot that will be soft and forgiving with a medium to wide foot and leg shape, the Salomon Quest Access 60 is a great choice.
Last: 104mm Average–Works well for the majority of average width feet.
Flex: 60–Very Soft - ideal for the lightest skiers and true beginners
Specific Women Low cuff-Anatomic cuff with lower rear support for women's calves for better fit & comfort
My Custom Fit Comfort-Thermoformable tongue for better tibial comfort
Women liner-A liner with a specific height and cuff adapted to women legs and calves.
Backbone-Magnesium piece linking the upper cuff to the lower shell providing back support for better rebound coming out of the turn (rebound effect) & enabling a progressive but powerful forward flex
Ride & Hike technology-Salomon patented system combining the backbone release with a specific V-cut shape on the back of the lower shell. Allows wide rear cuff opening when hiking (Backbone unlocked) & true alpine forward flex when skiing down (Backbone locked) because the backside of the backbone fits precisely into the V-cut lower shell
Mini plastic sole
2 micro alu + ratchet buckle
Woolmetal
24mm oversized pivot
Custom Heat technology
PU lower shell & PP cuff
Ratchet buckle