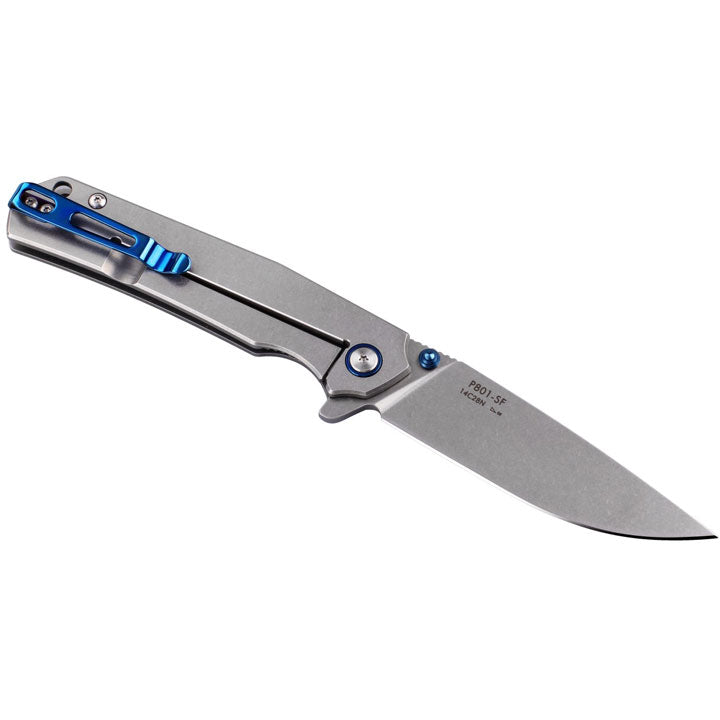 Ruike P801-SF Stonewashed Stainless Steel Handle Knife
Crafted almost exclusive of Stainless Steel, this simple yet elegant knife is of utmost quality. The neatly stonewashed metallic body is complimented by little details making this an exquisite EDC pocket knife. The blade can be deployed much faster with the flipper or the thumb stud as you prefer.
FEATURES:
Sandvik 14C28N Stainless Steel, Cryogenic Ttreatment: Sandvik 14C28N is a martensitic stainless chromium steel with a chemistry optimized for high quality professional knife applications which put very high demands on edge sharpness, edge stability and corrosion resistance. As to this knife, the 14C28N is intensively processed by RUIKE using quenching and cryogenic ttreatment, which features an ideal hardness of 58~60 HRC.
3Cr14N Stainless Steel Handle, Stonewashed: The 3Cr14N stainless steel features high standard in toughness, abrasive resistance and corrosion resistance. In addition, the stainless steel handle is stonewashed, allowing authentically fine and comfortable sense of touch.
Thrust Ball Bearing: The pivot that connects the blade and handle is a ball bearing structure, which ensures that deploying the blade is a safe, quick and smooth action.
Product Specifications:
Overall length: 200 mm / 7.87"

Closed length: 114 mm / 4.49"

Blade length: 86 mm / 3.39"

Blade thickness: 3.1 mm / 0.12"

Weight: 120 g / 4.23 oz

Blade material: 14C28N stainless steel

Handle material: 3Cr14N stainless steel

Opening: Thumbstuds & flipper

Locking: Frame lock