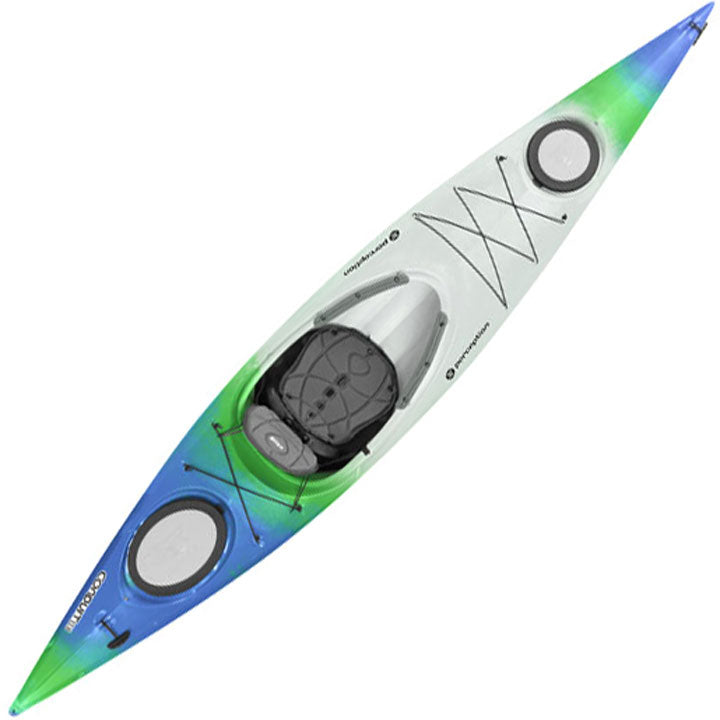 Perception Kayak Conduit 13.0 Kayak
The Perception Conduit series offers the perfect balance of speed and fun for beginners and intermediate paddlers. Perfect for exploring flat-water lakes, ponds, and rivers, the Conduit inspires confidence with one of the safest, most stable designs available. Effortless to turn, yet easy to point straight to your destination, it's ideal for new paddlers looking for a boat that will grow with them as their skills develop and progress. The roomy and stable sit-in design is exceptionally safe and easy for anyone to get in and out of. The larger size of this 13-foot kayak maintains the maneuverability of its smaller sibling, while adding speed, stability, and dual dry storage zones. The most comfortable seat in its class dramtically reduces fatigue and let's you spend more time on the water.
Front and rear dry storage
Bungee cord deck rigging for added storage
Bulkhead foam adds extra flotation
Extra cushy ergonomic Zone Seat
Leg padding along cockpit edge
Easy to enter and exit for a wide range of paddler sizes
Optimized design and construction makes this boat easier to carry at only 51 lbs.
Specifications
Length: 13' / 396 cm
Width: 26.5" / 67 cm
Deck Height: 12" / 30 cm
Weight: 51 lbs. / 23 kg
Cockpit Length: 38" / 97 cm
Cockpit Width: 21" / 53 cm
Max Capacity: 295 lbs. / 134 kg