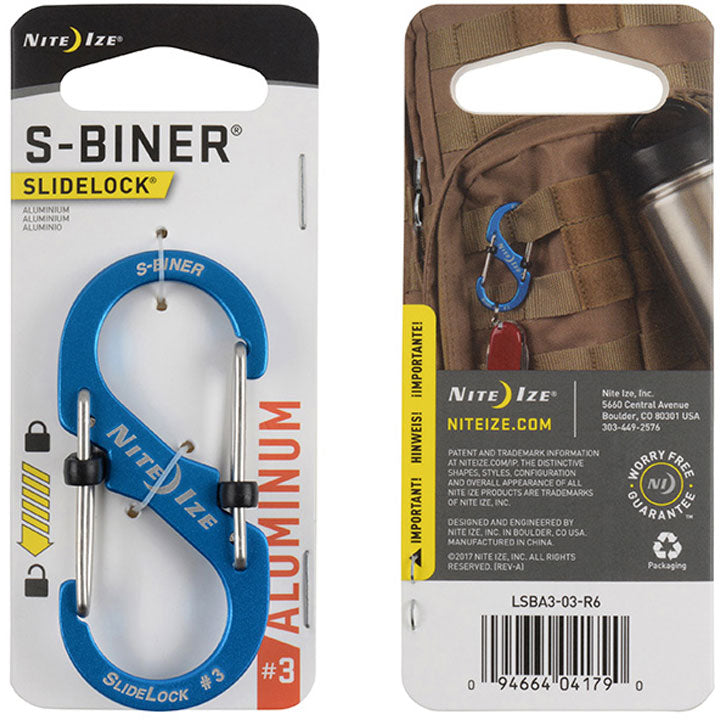 Nite Ize S-Biner Slidelock Dual Carabiner Aluminum 3
With double duty S-Biner clippability, this colorful, aluminum version has the added bonus of SlideLocks® to securely lock each gate independently.
PRODUCT INFORMATION:
Organize, connect, carry, and keep your valuables extra secure with the colorful, aluminum S-Biner SlideLock Dual Carabiner. Made of high quality, lightweight aluminum, the S-Biner SlideLock features two simple, innovative plastic sliders that slide into place to keep the stainless steel gates securely closed. Each gate can be locked independently for convenient access. The S-Biner gates will stay firmly locked until you choose to unlock them, allowing for simple and secure linking, attaching, and carrying. Our S-Biner SlideLocks are available in three sizes (#2, #3, and #4) for small-to-larger tasks.
Features:
Solid aluminum construction
Secure stainless steel wire gates with slide-to-lock feature
Gates can be locked independently
Dimensions: 1.2" x 2.7" x .4" | 31mm x 68mm x 11mm
Weight: .3oz | 9g