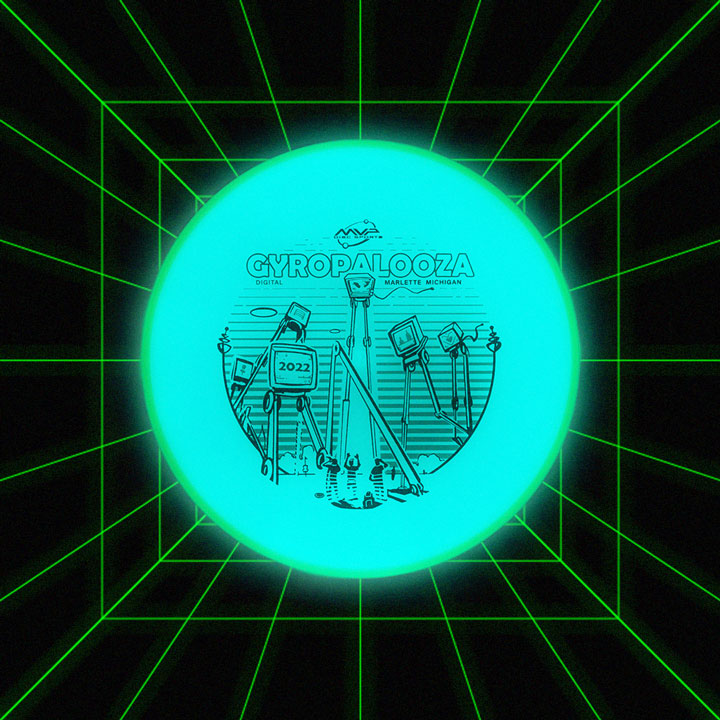 Digital GYROpalooza 2022 is here, and with it comes the debut of some truly awesome plastic. GYROpalooza is a special time of year for GYROnauts, and we thought long and hard about how we'd help our fans celebrate the innovative spirit of GYRO®. This year, it was all about honoring our goal of being the Leading Edge, so we decided to give fans a sneak peek at the next evolution of Eclipse plastic. We think you're all going to really enjoy these GYROpalooza exclusive items, so grab your pack and these truly momentous discs before they're gone!
Whats in the GYROpalooza Box?
14 DISCS!!!
1 Total Eclipse Color Glow Proxy
To kick things off, we are debuting the next step in Eclipse technology — please welcome the Total Eclipse Proxy! Featuring color glow rims and cores, with art by the incomparable Mike Inscho, the Total Eclipse Proxy is our gift to GYROnauts around the world. Keep your eye out for core and rim combinations of white, aqua, green, purple, and teal! 
1 Color Glow Envy
Each pack will also include one Prototype Color Eclipse Envy! These prototypes come with Color Eclipse cores of blue, teal, green, or purple — producing a beautiful glow to match the flight of the beloved Envy. Please note that, while both the Total Eclipse Proxy and Prototype Color Eclipse Envy are Eclipse technology, the added color can make the glow a touch less bright than normal Eclipse. Longevity and intensity of glow are still in the same general ballpark, but you might notice a difference when comparing to the standard set by Eclipse. 
12 Lab Seconds
Let's not forget the added value of the 12 assorted Lab Second discs! These discs have been hand sorted to ensure an ideal variety of both molds and types, so you'll be sure to get something from each class — putter, mid, fairway, and driver! There will be more drivers than putters and mids, but we've placed an extreme emphasis on variety this time. Each pack will serve as a great introduction to GYRO® or a cost effective way to expand your lineup — making it a tremendous gift idea too!