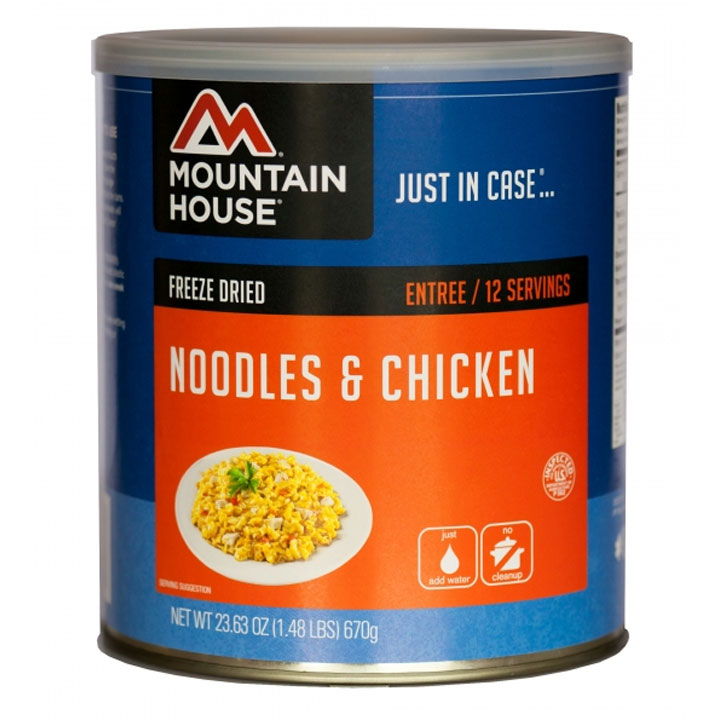 Mountain House Noodles & Chicken Number 10 Can
Mountain House Noodles and Chicken serves up home-cooked flavor in an easy-to-cook package that can be whipped up in minutes. Made with juicy precooked chicken, comforting egg noodles and red pepper in a savory sauce, you can enjoy this longtime favorite anywhere life takes you, from those busy nights where you don't have time to cook to weekend adventures on your favorite trail.
Unlike that beloved chicken noodle soup recipe your mom used to make for you, Mountain House Noodles & Chicken is already prepared and takes minutes to cook. Just add boiling water, wait patiently for 8 to 10 minutes and you'll have a comforting meal ready to eat in no time. No slaving away in the kitchen for hours, but with all that comforting flavor you love.
#10 Can - You'll find nearly one and a half pounds of our delicious Noodles and Chicken in our #10 Can. Ideal for emergency food storage - even if that emergency is the entire Little League team showing up hungry after practice.